Comments Off

on Laura Newell: The Philharmonia Recordings – A Review by Dana Paul Perna
June 4, 2023 by Admin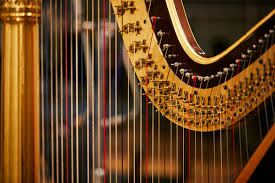 Laura Newell: The Philharmonia Recordings – A Review by Dana Paul Perna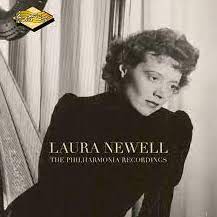 Artek Recordings has recently issued a CD (Artek – 0067-2) devoted to the two LP releases Laura Newell made for the once-upon-a-time Philharmonia label that was run by cellist/composer Alan Shulman, and his brother Sylvan. Laura Who, you ask? Laura Newell (1900-1981) was one of the foremost studio, session, and free-lance New York-based concert harpist for decades prior to her retirement from public performance by 1957 (after which she devoted her time to teaching). Her former student Samuel Milligan (the founding editor of the American Harp Journal) is quoted as having stated that she had "…the cleanest technique I ever heard." Her 1949 Columbia recording of Sonata for Flute, Viola, and Harp by Claude Debussy with Milton Katims (viola), and John Wummer (flute) was – and remains – highly praised while, during the later years of her performing career, Newell played the harp on not one, but two recordings of Benjamin Britten's A Ceremony of Carols with the Robert Shaw Chorale. She performed under many of the most renowned conductors of that period. Newell retired in the early 1970s from teaching to devote her creative activity to painting watercolors, calligraphy, and enamels from that point on. For those reasons alone, this outstanding CD is a valuable testament to her extraordinary talents captured while in her prime.
For the LPs, one featured her as soloist – just her, front-and-center – in concert repertory for her instrument, while the other featured Ms. Newell joined by the Stuyvesant Quartet. In regard to this reissue, this labor-of-love by producer Jay Shulman has assembled these materials together for the first time, making a most welcome entry, or, in this case, re-entry onto the commercial scene. One has to conclude that Ms. Newell personally selected the repertory she desired to record. Every work, therefore, is a stand-out opus for her instrument, or within the context of her instrument as it has been cast in chamber music.
In greater detail, the first half of this CD's playlist is comprised of compositions for solo harp by Italian composers, beginning with the three movement Sonata per Arpa, Op. 68 by Alfredo Casella in a truly glowing interpretation. This is followed by two works by Ottorino Respighi, the first of those being his early Notturno from 1904. Originally for piano, its harp transcription was prepared by Ms. Newell so idiomatically that one would swear Respighi had prepared it himself. The three Respighi tracks that follow derive from his Antiche Danze ed Arie for piano. While there is no mention of a transcriber, more-than-likely having been provided by Ms. Newell, the booklet notes point out that they, quote: "….lend themselves especially graciously to harp transcription". The final entry in this group is Harp Solo from Lucia di Lammermoor by Gaetano Donizetti as arranged by the 19th-Century harpist to the Russian Imperial Court, Albert Zabel. This stands as a tour-de-force for the instrument, which Ms. Newell handles with elegance, and panache.
The remaining half of the CD features Ms. Newell with the Stuyvesant Quartet, which consisted of Sylvan Shulman and Bernard Robbins (violins), Ralph Hersh (viola), and Alan Shulman (cello), in repertory for the harp within a chamber context, beginning with the episodic single movement Quintet for Strings and Harp (1919) by the English master, Arnold Bax; one among the very finest works within his catalog. This is followed by a superb performance of the three movement Trio for Violin, Cello, and Harp (1943-44) by Jacques Ibert. This genuine jewel among the crown of Ibert's brilliant output is presented to the level his effervescent masterpiece requires; one that he may have applied a bit more tender loving care to owing to the fact that his daughter, Jacqueline, was a harpist. The CD concludes with the Sonata a Cinque by the great Italian composer Gian Francesco Malipiero. Splendidly crafted in one expressively episodic movement, this unique chamber work owes much to a Baroque ideology during, and within the 20th-Century's Neo-Classical ethos. As with the other titles in this collection, it is masterfully presented in a timelessly stellar performance.
It requires mentioning that, in the case of Bax, Ibert, and Malipiero, all three of these composers were still alive when these recordings were made. Whether or not they ever heard this recording upon its initial release is anyones' guess, but one hopes that they did, especially Bax who only had a short period of life remaining to him.
There is another aspect of this release that holds some level of interest past the music, these outstanding performances, Ms. Newell, and this repertory. During this period, most musicians recorded in some nature of a formal studio for various reasons that, while obvious, remain too numerous to list. These Philharmonia recordings were produced, as it were, "on location". While that is not uncommon now to record in a church, a hall, a small venue, in ones' home, etc., this was not the case during the early 1950's when these tracks were laid down in splendiferous monophonic sound. Whereas one can record off their carrying-with-them cellphones today, the recording equipment as intended for a formal release of yesteryear was heavy and bulky, further requiring to have significant space to become fully, and properly set-up somewhere within the chosen location. All of this required "load-in" time, "set-up" time, and "break-down" time (e.g. at the conclusion of the recording sessions). Nevertheless, the well balanced monaural engineering still sounds crystal clear more than 70 years later, as does Newell's extraordinary virtuosity, and insightfully intelligent musicianship. The all-Italian solo harp tracks were recorded second on 23 December 1953 in Carnegie Recital Hall (known today as Weill Recital Hall) in Mid-Town Manhattan, appearing as Philharmonia Records PH-109. The chamber music tracks were recorded first during sessions that occurred on 19, 20, and 22 February 1951 at Village Lutheran Church in Bronxville, New York, appearing as Philharmonia Records PH-102. The person responsible as per the quality of these source materials was no less than the legendary audio pioneer, Norman C. Pickering. (Some among you out there in readership-land may have had Pickering needles and cartridges on the tone-arm of your record player). Credit, plus some very high praise, must be given to Brian C. Peters for the audio transfers and restoration of these source materials that were carefully prepared digitally, thereby making this CD's issuance a reality.
Jay Shulman has successfully provided the world with the opportunity to encounter repertory that remains largely unexplored as masterfully recorded by these great artists from America's past, specifically as a testimony to the greatness of its star attraction, the exceptional Laura Newell. For those who are particularly interested in something unique, different, and a bit off-the-beat-and-track, this Artek CD comes highly recommended.
– Dana Paul Perna
---
Comments Off

on Laura Newell: The Philharmonia Recordings – A Review by Dana Paul Perna
Sorry, comments are closed.