Comments Off

on Space May Well Be The Place – It's Sun Ra
September 16, 2012 by Admin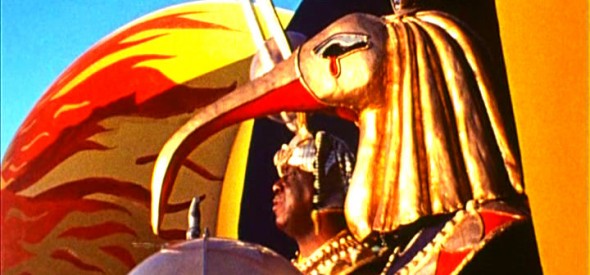 I recently watched the inimitable Sun Ra's 1974 epic film Space Is The Place. I suppose you could call it a cult item, but I think of it as the man from Saturn's artistic statement. As one writer said, "It was only after watching Space Is The Place that the music of Sun Ra & His Intergalactic Arkestra really made any real sense."
Space Is… is a colorful, swinging, imaginative, funny, at times inexplicable, yet completely enjoyable film that is very much of its time. Maybe a bit crude technically, and Ra is a bit thin in the on-screen personality department, but there's a goofy energy and his very cool music that makes it worth your hour and 20 minutes.
Take a look at the intro to the film. It can only hint at the rest of the story:
You can watch the full feature on YouTube, but beware – what they have is the unapproved sex and drugs version. Better to look for the cleaned-up, Ra-approved version.
Since we're talking about the man and his music, here's a couple of primo performances:
and
The Arkestra is still very much together, under the direction of longtime Sun Ra colleague Marshall Allen. Visit them at
http://www.elrarecords.com/main.html
and dig what they're saying.
Given what the planet looks like these days, maybe space is the place.
Category Sound | Tags:
---
Comments Off

on Space May Well Be The Place – It's Sun Ra
Sorry, comments are closed.