Comments Off

on Tania Stavreva in Concert – A Review by Mark Greenfest
July 20, 2015 by Admin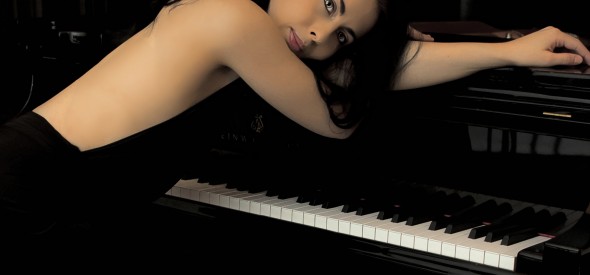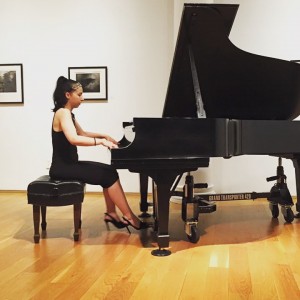 Tania Stavreva gave a piano solo concert at Tenri Cultural Institute in New York, June 23, 2015, before she launches her British tour. Her London recital is July 25. Ms. Stavreva's performance is exciting and exacting. She understands the music she performs. Trim as any aerobics instructor in her black cocktail dress and tiara-like headband, this petite dynamo has some of the most precise fingering of any of the twenty-something generation of pianists, bar none.  And, she has a pedaling technique in her stiletto heels that's immaculate. Her showmanship has total substance and this Bulgarian-born, and Bulgarian and American-educated pianist, with distinguished Russian-trained professors, is one to watch. (She had studied with Daniel Pollack, who was a disciple of Rosina Lhevine, at Juilliard, and with Krassimir Gatev and Rosita Ivanchera in Bulgaria.)
In her own, short and virtuosic piece Rhythmic Movement, rhythms cascade on top of rhythms, in wildly forward-moving arpeggios that are carefully controlled – hands moving fast as lightning. I was impressed by the music of Pancho Vladigerov, a Bulgarian composer whose music is lyrical and ruminative – for instance, the first piece Page from An Album is nocturnal – very much in the pianistic tradition of Liszt and Chopin – romantic, subtle and exciting; in contrast, the third piece has rocketing arpeggios.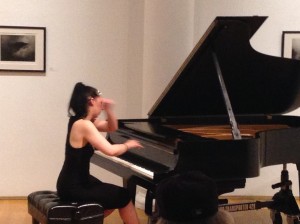 Her French, Spanish, Argentinian and Russian repertoire sounds authentic, steeped in that culture and technique. In several pieces her hands rocket like a jet engine, yet she's steady as a rock. She performed the New York premiere of Mason Bates (U.S., b. 1977), Indigo Workshop (2014) and is supportive of new music. She also gave a superb performance of Roberto Piana's (b. 1971) Preludes.  (She has gotten good press in the past, including from The New York Times and from the late Harris Goldsmith.)
More about her at http://www.sonicbids.com/band/taniastavreva/.
Category Sound | Tags:
---
Comments Off

on Tania Stavreva in Concert – A Review by Mark Greenfest
Sorry, comments are closed.