Comments Off

on Bascove's Bridges
August 2, 2015 by Admin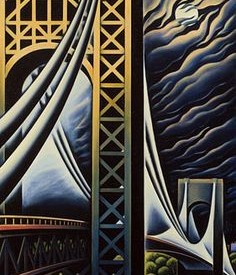 My wife and I recently visited Staten Island, probably the least known of New York City's five boroughs. While there, we spent part of the day at Snug Harbor Cultural Center and Botanical Garden (http://snug-harbor.org/), especially the superb Noble Maritime Collection. Looking on, it's the second building from the right.
Among the many lovely and truly interesting things to see there was a collection of New York City-related bridge paintings and artworks by Anne Bascove. I was quite taken with her work.
It is colorful, vibrant and wonderfully fanciful and captures the energy, presence and sense of scale of these amazing structures – even the small bridges – things that are so much a part of the cityscape that we take them for granted. By isolating and highlighting them, Bascove causes us to re-evaluate just how essential these structures are to the life of this spectacular creation we call New York City. She also shows us how lovely they truly are.
Have a look.
Much more about Bascove and her work at http://www.bascove.com/.
Category Sight | Tags:
---
Comments Off

on Bascove's Bridges
Sorry, comments are closed.