Comments Off

on Songs of War, Protest, and Social Consciousness
March 25, 2018 by Admin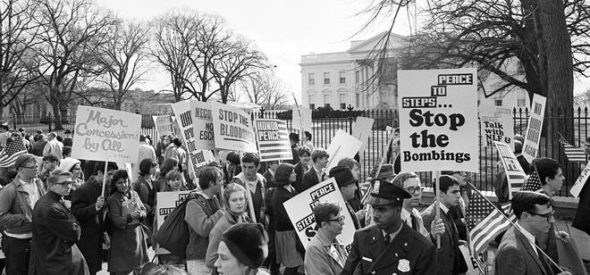 Songs of War, Protest, and Social Consciousness:
Bernstein, Blitzstein, York (Styne), NYFOS, FMSH (Paxton)
by Leonard Lehrman © 2018
Bernstein's Victory Jive
In times of stress, songs can act as palliatives or rousers. In the latter category is a song I recently discovered with music by Leonard Bernstein that neither his family nor the Bernstein Office apparently knew anything about. Written to benefit Russian War Relief during the Battle of Stalingrad, it's called "The Victory Jive" and was mentioned in a newsletter, Spirit of '42, vol. 1 #1, a copy of which my mother saved (she headed the Junior Committee of RWR at Simmons while she was a student there), that may be the only copy still in existence(!).
The piece was apparently performed at a "Youth for Victory" rally in Boston Oct. 11, 1942, which was written up in the Globe the next day in a long article that included a photo of my mother but no mention of the piece. This may have been because Bernstein wrote in a letter attached to the manuscript – which was purchased just three years ago at auction by the Library of Congress, with money from the Leonore & Ira Gershwin Fund – "Please do not use my name on this." He was at the time writing under various pseudonyms, including "Lenny Beethoven" (a song with Charles Stern entitled "There Had To Be A Revolution," which quotes Tchaikovsky and "Otchi Chornaya" that Thomas Smith plans to sing at the annual Court Street Music house concert June 3, 2018, in Valley Stream) and "Lenny Amber," from which his business organization, Amberson Productions, later took its name – "amber" being the English translation of the German word "Bernstein." We know from his FBI files (cited by Barry Seldes in his 2009 book, Leonard Bernstein: The Political Life of an American Musician) that Bernstein was in Boston to play the piece at the rally. But whether the words were actually sung is in doubt.
Until the discovery of the newsletter my mother had saved, no one knew who had written the words to the piece: Sam Abelow. The lyricist's grandson, a painter in Westport CT with the same name as his grandfather, graciously granted permission to sing the words, and the Bernstein Office granted limited permission with regard to the music. On Feb. 18, 2018 Helene Williams and I performed it at a private concert in Florida. We'll be including it in our four upcoming Bernstein Centennnial concerts with Caryn Hartglass April 29 at Great Neck Library and elsewhere on Long Island Sep. 29, Oct. 5 and Nov. 25. (See http://ljlehrman.artists-in-residence.com/flyer2018.html.) Here's the text:
The Victory Jive
lyrics by Sam Abelow (posted by permission of his grandson, Sam Abelow)
1st youth: So get along, Mister, get along.
2nd youth: You're out of step, you're singing off key.
3rd youth: Everything you've said so far is wrong.
4th youth: You're helping Hitler. We want to be free!
All: We want to be free! Get that straight.
And beginning now, we're giving you the gate.
(They drive the Appeasers offstage.)
If you want to be free and you want to thrive,
Get into the groove with the Victory Jive. (Whoa-ho-ho-ho!)
You all can do it. It's easy to learn. (Whoa-ho-ho-ho!)
Guaranteed to make old Hitler burn.
No one's too old and no one's too young
To see to it that Mister Hitler's hung. (Whoa-ho-ho-ho!)
We'll string him up to the tallest tree. (Whoa-ho-ho-ho!)
with the other foes of liberty.
You buy stamps and you sell them.
Call on people and tell them
to buy bonds. Give 'til it hurts –
'cause if Hitler wins, it'll hurt much worse –
So let's have more planes, more tanks, more guns
to wallop the Nazis and rising suns. (Whoa-ho-ho-ho!)
We've got our freedom, let's keep it alive. (Whoa-ho-ho-ho!)
With the Victory Jive!
The song is reminiscent of another song written for Russian War Relief during that period, "A Quiet Girl" (who wants "to make the bullet that gets Hitler!") by Marc Blitzstein. Bernstein later appropriated that title for an entirely different song, in his second musical with Betty Comden & Adolph Green, Wonderful Town, in 1953. The Blitzstein song is published in volume 2 of The Marc Blitzstein Songbook (which I edited), posted on YouTube at https://youtu.be/PGd1jmSyoU0, and recorded on Premier Recordings' CD A Blitzstein Cabaret, sung by Helene Williams. In all three places, it includes an additional verse I wrote in 1989 about the need for "a world without an arms race," which somehow seems up-to-date again, given the current Russophobia, left and right.
Jule Styne at the York
Eight years after Wonderful Town, Comden & Green collaborated with Jule Styne on the notorious musical about greed, homelessness, and corruption, Subways Are For Sleeping. (The most successful collaborations of the trio included Bells Are Ringing; Hallelujah, Baby! [also revived by the York, Jan. 27-Feb. 4, 2018] and [half of] Peter Pan.) Notorious because it opened just after Brooks Atkinson of the NY Times retired, and producer David Merrick and publicist Harvey Sabinson saw their opportunity to pull off a coup: They invited lay people with the same names as all the NY critics (Howard Taubman, Walter Kerr, John Chapman, and 4 others) to a preview and then printed an ad with their rave "reviews" next to their names and photos.
The ruse may well have extended the run of the piece, which was up against competition like How to Succeed, No Strings, Milk and Honey and I Can Get It for You Wholesale (Barbra Streisand's debut). What's notable now is how upbeat every one of those musicals was, in the first year of the Kennedy administration, and how even Subways, despite its rather depressing subject, also tried to be. Adolph Green's wife Phyllis Newman, who won a Tony as the original Martha Vail, performing clad mostly in a towel, was on hand for the revival by the York Theatre Feb. 24-Mar. 4, 2018, helping with rewrites, trying to make the show work. (The late Betty Comden had earlier confided to producer Jim Morgan that she had never thought its problems had been "solved.") No question there's a lot of great material here. Green's own performance on YouTube of the number "Swing Your Projects," aka "Capital Gains," is a knockout. (One commenter, pseudonymed "shestakovich," two months ago called it "an awesome tune" that "could not be more relevant today.") The problem with it in the show, however, is that one is supposed to sympathize with the character who, with his Ponzi-scheming, comes across as somewhere between Bernie Madoff and Donald Trump, equally hard to stomach.
The problems and hypocrisies of the world are so overbearing in Styne's 1978 musical, Bar Mitzvah Boy, also revived at the York, Feb. 1-18, 2018, that the title character, lovingly embodied by 13-year-old Peyton Lusk, literally runs away from the ceremony. The overwrought reaction of his parents includes the over-the-top "Rita's Request," aka "Kill Me!" sung by Lori Wilner in full Yiddishe Mama mode. Also outstanding in the cast was Tim Jerome as Granddad. An inside story – Tim grew up in East Williston, babysitting for some cousins of mine; one of my fondest memories was my grandmother kvelling at "the bar mitzvah of Timothy Jerome." Yes, despite being named for two Catholic saints, he really is Jewish!
NYFOS' "Protest" at Merkin
New York Festival of Song Artistic Director Steven Blier curated and accompanied an ambitious program of protest songs with seven singers from Juilliard Feb. 27, 2018 at Merkin Hall. Originally staged by Mary Birnbaum, restaged by Mo Zhou, the program consisted of 16 numbers, concluding, of course, with Bernstein (his "A Julia de Burgos" from Songfest) and Blitzstein (the finale reprise of the title song from The Cradle Will Rock). With the opening "If It's Magic" and later "Big Brother," Stevie Wonder was the only composer represented by more than one song. The oldest, from 1920, was Mischa Spoliansky's "Lila-Lied," in Jeremy Lawrence's English adaptation: "The Lavender Song." The newest, from a New Year's prayer, beginning, "Give us love," was Mohammed Fairouz's 2012 setting of a Fadwa Tuqan poem in Arabic, sung by Rihab Chaleb, which was difficult to follow, missing a transliteration, in a programme otherwise generous in its provision of texts and commentary.
Bass Andrew Munn, an anti-fracking organizer who's been arrested four times, provided living proof that artists who protest can also sometimes walk the walk as well as talking the talk. His rendition of the classic "Joe Hill" admirably attempted to channel Paul Robeson, but next time he might include the final repetition of the last line in falsetto. More recent classics, by Joni Mitchell ("Big Yellow Taxi") and Randy Newman ("Political Science"), were dispatched with aplomb, as were four numbers in Spanish – including the Bernstein – while tenor Joshua Blue excelled in Fats Waller's "Black and Blue." There were also two classic WWII Resistance songs: the Italian anti-fascist "Bella, ciao" and Hirsh Glick's "Zog nit keynmol," to music mislabeled "a Russian folk tune." The music was actually a Cossack march by Dmitri Pokras, and was sung not only in the Warsaw Ghetto and by anti-Nazi partisans throughout the world, but also in Moscow by singers affirming the worthiness of Jewish identity, from Paul Robeson in 1950 to myself in 1985 (see photo at the bottom of this article). We sing it every year on Yom Kippur at the Metropolitan Synagogue and at our Passover Seders at home. And we'll sing it again, along with "The Victory Jive," at a concert remembering the leader of the Soviet Jewish community, Solomon Michoels, in Boston this coming fall.
A new adaptation by Pete Sinjin of Woody Guthrie's 1951 "Old Man Trump," on the current White House resident's racist landlord father Fred, brought us up to the present. Which brings us to the Folk Music Society of Huntington's March 3, 2018 concert at The Congregational Church of Huntington, in Centerport, featuring protest song icon
Tom Paxton and the duo of Don Henry & Jon Vezner, known as "The Don Juans."
Coming home from the Merkin Hall concert, I felt I had to write something, and found myself penning a new verse to Paxton's 1965 classic, "We Didn't Know." The first three verses deal with German Nazis, then Southern whites, and finally TV-watchers of the Vietnam War. Eleven years ago, inspired by Susan Blake, whom we (and Newsday) called "the social conscience of Long Island," I wrote a fourth verse on the need for impeachment at the highest level. Tom Paxton sent me his blessing, and I performed it in her memory at PeaceSmiths in Amityville and posted it on my website. This time, I wrote an even longer new verse about all the current crimes in Washington D.C. But to my surprise, Paxton wrote me that he had written his own new verse. So at the open mic (which also included a lovely litany of medicinal "Side Effects" by Lois Morton to a tune [uncredited] from Ruddigore – see https://youtu.be/uty-1KjDC4U), instead of performing "We Didn't Know," I did Tom Lehrer's "Hanukka in Santa Monica," along with my second verse, "Goot Yuntif," which includes all the Jewish holidays Lehrer hadn't mentioned in his first verse. (See https://youtu.be/i3_AnVvwFbM.)
Before the concert began, Paxton told me he was not going to sing "We Didn't Know" because he hadn't memorized the new verse yet but promised to send it to me. A few days later, he did. It turned out to address only one current issue: gun control, obviously a continuing concern of his. Indeed, he's been one of the most prominent and eloquent voices on the subject, ever since his 1965 song "Buy a Gun for Your Son." (See https://youtu.be/WphNO24h9nA.) He also took up that theme again in one of his newest songs, "What If, No Matter," which is posted on YouTube with a link from his website: http://www.tompaxton.com/what-if-no-matter-live-in-portland-or-december/.
That was the first song he sang March 3rd, after a 4-song opening set by the Don Juans. There followed the ecological "How Beautiful Upon the Mountains," based on Isaiah; "Let's Get the Boat in the Water"; the Eugene V. Debsian "If the Poor Don't Matter [Then Neither Do I]" – see https://youtu.be/W6ynir0_wbM; the classic "Whose Garden Was This?"; "And If It's Not Time" and one of his very earliest, "Bottle of Wine."
The second half included tributes to John Hurt and Dave Van Ronk; a sarcastic song about global warming called "What's So Bad About That" which Paxton aptly suggested ought to be on Stephen Colbert's show; and two of his best-known tunes – "Ramblin' Boy" and "The Last Thing on My Mind." The last of these has an interesting history. It's probably Paxton's most "covered" song, meaning more people have sung it than any other of his songs, including Judy Collins (several versions, including a few duets with Stephen Sills), Joan Baez, The Seekers (with over a million views on YouTube), Peter Paul & Mary, the Kingston Trio, a very sensitive rendition by Joe Frazier of the Chad Mitchell Trio: https://youtu.be/jONtiTxO834; and various duets with Paxton himself, my favorite being that with Janis Ian on March 15, 2015: https://youtu.be/5iWXR2cu8Qo. I've done one too, at https://youtu.be/rIwM0Gy7h-o, as has my brother Paul D. Lehrman, with Rabbi Jeffrey Summit, at https://youtu.be/ieF4zmw3DHc, whose YouTube version appears to be the only one to incorporate a final verse that Paxton didn't write, but did endorse and has performed, though not March 3, 2018. (When asked why, he said: "I forgot to do it.") The lyrics are available elsewhere on line, but not so easy to find. So here they are:
Well I met this young girl at a folk club
Like you do, like you do.
So I bought her a drink and we chatted
Wouldn't you, wouldn't you.
And then after the show she invited me home
And she said we were two of a kind
Then she played me every record That Tom Paxton ever made
And you know that was the last thing on my mind.
So who wrote them? Various sources attribute them to "an anonymous wag" and "a fan," and they even appear on one website as Paxton's own. But some research turned up the probable author, who seems to have written them when he was relatively unknown, singing in Irish pubs as far back as 1995: Kieran Goss, who by 2013 had become "one of the top songwriters in Ireland" and "one of the biggest-selling recording artists in Ireland and Northern Ireland."
So who knows what fate lies in store for those who write new lyrics to others' tunes! In that spirit, I've posted all the old lyrics and my new ones for "We Didn't Know" at http://ljlehrman.artists-in-residence.com/WeDidn'tKnow.html but won't perform the most recent ones without permission, or at least not with Paxton's music, and hope for the best.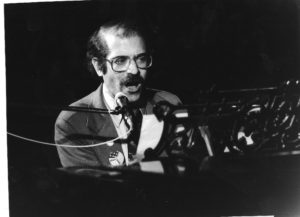 LEONARD LEHRMAN is the composer of 230 original works, 64 translations and 18 adaptations, listed at http://ljlehrman.artists-in-residence.com/. This year he became the first composer to receive the Creative Indivdual Artist Grant by NYSCA Decentralization for his setting of Alex Skovron's "The Last Word," composed for the ALBA Consort of the Long Island Baroque Ensemble. (See http://liherald.com/valleystream/stories/triangle-fire-composer-wins-state-arts-grant,100601). Founder/Conductor of The Metropolitan Philharmonic Chorus, he is also the producer of seven upcoming Centenary Concerts: three for J. Willard Roosevelt April 20-22 in Oyster Bay and Orient; four for Leonard Bernstein in Great Neck, Wantagh, Port Washington and Long Beach 4/29, 9/29, 10/5 & 11/25. This is his 14th article for soundwordsight.com
Category Sight, Sound, Word | Tags:
---
Comments Off

on Songs of War, Protest, and Social Consciousness
Sorry, comments are closed.