Comments Off

on Two CD Reviews from Dana Paul Perna
August 20, 2021 by Admin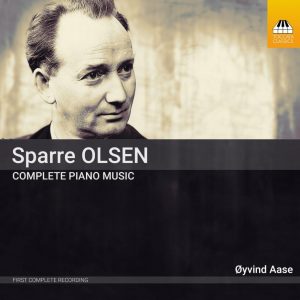 Sparre OLSEN: Complete Piano Music 
Øyvind Aase, piano
Toccata Classics CD  TOCC 0584
…..so, if it was after mid-March 2020, what were you doing with yourself for the remainder of that year? Probably not too much (?) – certainly not venturing out to a studio to cut a platter. On the other hand, in the city of Oslo, Norway, pianist Øyvind Aase DID manage to make his way to that city's Rainbow Studio where, on their Steinway D-274 piano, he cut one that equates to a smorgasbord devoted to the "Complete" piano solo compositions by his countryman, Sparre Olsen (1903-1984). Why should that register with importance? Pure and simple – it is long overdue. Carl Gustave Sparre Olsen (that's his full name) remains known only to a handful of aficionados. It is not easy for me to articulate the virtues of his music due to its specific nature. Any "this", or "that" will equate to a negative in one way, or another, but, being knee-deep into this already, proceed onward I shall – a trait Olsen himself would have respected.
Let me begin by putting it the following ways: if you are seeking dodecaphonic-meanderings-within-a-cosmogenic-algorithm-for-pestilence, it is more-than-likely that this will not be the disc for you. If you are looking for that Lisztian-pedal-to-the-wall-fully-open-lid-all-88-keys-piano-pounding-in-a-calamitous-cascade-of-crescendo-crashing-like-Liberace-arpeggios, NOPE – it's not going to do it for you. IF, on the other hand, you are seeking 69 minutes of tonality in a pure expression thru such utilization, YOU HAVE MOST DEFINITELY ARRIVED at the correct release! There are no less than 36 tracks contained on this Toccata Classics CD, reminding me of Satie as having written pieces that run in short durations. (In Olsen's case, the shortest track runs 12 seconds!) To better illustrate this, Grieg's "19 Norwegian Folk Songs for solo piano, Op. 66" runs around 26-ish minutes in duration. Olsen's entire "Norwegian Folk Songs from Gudbrandsdalen," which is also a set of 19, tops-out at just about 9 minutes! Just keep an open mind to the fact that brevity can be a virtue unto itself. The closest Olsen comes to applications of what one would consider "modernism" is contained in his "Andante funébre" (1937, rev. 1949); one of the longer selections with a massive running-time of four-and-a-half-minutes. Despite its resolute finitude, it fully renders an impact nonetheless. This recording covers Olsen's career, including a short "Air" from 1981, as well as concluding with his "Hymn: Honour Eternal Spring" from around 1916; a song he composed when he was 13, in a version he prepared for piano that was published in 1973 to honor his 70th birthday. His major piano opus, "Leitom Suite, op. 33" is also included, as are Olsen's delightful "Three Short Pieces," both Op. 31 "From Telemark Suites on Norwegian Folksongs," as well as his delicious "Variations on a Norwegian FolkTune, op. 5".
Echoes of Grieg can be heard within this music, that is true, however, the more one engages with it, Olsen's presence becomes more clearly defined on its own merits. As concisely put as one can, Olsen's work is characteristically charming, inviting, engaging, and individualistic – words not commonly encountered all that often anymore. Much of it, as the booklet notes point out, are intended for pianists, especially younger ones, to have something to perform as they develop their interpretive skills, expressed in a manner that masterfully captures this repertory's Norwegian origins. This means, therefore, that one will not hear grand gestures thru dazzling flights of virtuosity, but, rather intimate expressions – almost as if the listener had become engrossed in a private conversation with the composer over a serving of sliced Fiskegrot wrapped in a lefse, or, while joining him in one of his favorite pastimes, fishing.
While the pianism on this disc is worth the price of purchase, one must mention the truly exquisite booklet notes that were authored by the disc's pianist, Øyvind Aase. That booklet, alone, is worth the price of admission. Regarding those booklet notes, which is titled "Sparre Olsen and the Art of Saying a lot with a Little," provides a rather in depth profile of him, as well as details regarding his music in disturbingly excellent English. (It is always rather "disturbing" when someone from elsewhere can write in better English than most Americans.)
On the whole, this is an extremely worthy addition to the catalog regarding a composer whose work remains relatively unknown, unheard, and unrecognized. One has to conclude that this was a genuine labor of love for pianist and writer, Øyvind Aase, since the results can be distinctly evidenced on every track. This Toccata Classics CD (TOCC 0584) may finally help to garner attention – deservedly so! – to this rather humble figure of 20th-Century Music to a much wider audience.
Dana Paul Perna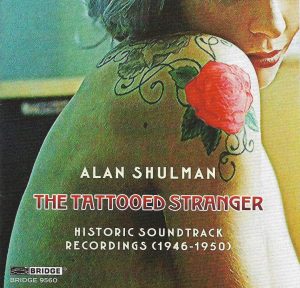 Alan Shulman: 
"The Tattooed Stranger" Historic Soundtrack Recordings (1946- 1950)
Bridge Records CD  Bridge 9560
For those among you out there who are aficionado's of Film Noir cinema, information relating to this release will prove of particular interest. Alan Shulman holds a most dubious distinction within that genre's history for it is he who scored that noir classic "The Tattooed Stranger", the soundtrack of which, along with a collection of his scores for documentaries has been released on Bridge Records. The audio tracks for everything on it have been culled from their actual original monophonic recording sessions, complete with expert notes penned by the Maestro's son, the renowned cellist, Jay Shulman.
It is hard to provide an overview of a career as vast, and varied as Mr. Shulman enjoyed. Born on June 4, 1915 in Baltimore, Maryland, Alan Shulman demonstrated an interest in music at an early age. Along with his siblings, Sylvan, and Violet, the Shulman Trio was formed when he was 8 years old. All three of them attended Peabody Conservatory. At 14, his family moved to Brooklyn, NY, where he attended Erasmus Hall High School until 1929, the year in which he, not only won a scholarship from the New York Philharmonic that enabled him to continue his cello studies, but began playing with the National Orchestral Association under conductor Léon Barzin until 1932. During this period, Shulman joined LOCAL 802 of the Musician's Union in 1931, attended Juilliard in 1932 where he studied with Felix Salmond, and began working for WNBC Radio in 1933. He studied cello privately with Emanuel Feuermann in 1939, and composition with Paul Hindemith in 1942.
Shulman wrote arrangements for the likes of Leo Reisman, André Kostelanetz, and Arthur Fiedler, among others, was the cellist in the Stuyvesant String Quartet, and served as a Merchant Marine during World War II where he holds the distinction of having taught orchestration to a fellow Merchant Marine that some of you may have heard of, Nelson Riddle. Alan and Sylvan were members of the jazz group New Friends of Rhythm, and, as mentioned, it was through his involvement on, and for Radio that much of Alan's music found an audience.
He was among the first members hired to join the NBC Symphony Orchestra when it was established in 1937 for Arturo Toscanini. As a member of the orchestra, Shulman performed under some of the greatest Maestros from that period that included, alongside Toscanini, Leopold Stokowski, Pierre Monteux, Dmitri Mitropoulos, Leonard Bernstein, Guido Cantelli, as well as conductors who emerged from within the orchestra's ranks, Alfred Wallenstein, and the future music director of the Seattle Symphony Orchestra, Milton Katims, among others, of course. He was also a cellist on the radio program "The Big Show" that was hosted by Tallulah Bankhead, to whom he dedicated his noted orchestral masterwork "A Laurentian Overture." He also participated as a session musician on many recordings in many genres, and was among the founders of the Violoncello Society of New York for which he served as president from 1967 until 1972.
As a highly skilled composer and arranger, Shulman's work on film represents his music in his own orchestrations. In 1945, Shulman was hired by Herman Fuchs to score documentaries for RKO-Pathé Company, which allowed him to remain in New York where the studio orchestra's musicians were assembled. This Bridge CD release includes three completed Shulman documentary scores: "Tennessee Valley Authority" (the first one completed solely by Shulman for that production company), "Freedom and Famine", "Port of New York," along with just a short excerpt from "Behind Your Radio Dial" with which this release concludes. Even the aforementioned "The Tattooed Stranger", which had been shot in New York, consists of New York musicians on its soundtrack that was produced by this same RKO-PATHÉ unit.
This is all first-rate music that, even without the filmed imagery it accompanies, it still carries its own symphonic narrative most ably. The dubious distinction that I alluded to is the fact that Mr. Shulman's name is misspelt on the opening credits of "The Tattooed Stranger", but this Bridge release spells his name properly, setting the record straight once and for all. Nearly 24 minutes of Shulman's cinematic efforts for that now-celebrated feature are represented on this release in all its masterful glory; just what the interested film enthusiast hopes for.
If you are interested in soundtracks that derive far from the Hollywood scene, this release is certainly a must-have among your collection. Once again, it bares mentioning that these audio tracks derive right off their original monophonic New York recording sessions. Not only is it rewarding to have these soundtracks available before the public, it is a first-rate release devoted to one of America's finest, and most versatile talents that is highly recommended for everyone, everywhere, especially cinema enthusiasts, and collectors of outstanding music.
Dana Paul Perna
---
Comments Off

on Two CD Reviews from Dana Paul Perna
Sorry, comments are closed.