Comments Off

on Clarinetist Kristen Mather de Andrade's As Bright as the Skies are Blue – A Review
July 30, 2023 by Admin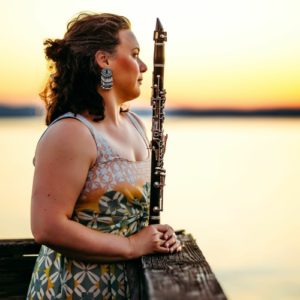 Clarinetist Kristen Mather de Andrade's As Bright as the Skies are Blue is a brief but very attractive collection of new works.
The titular work, As Bright as the Skies are Blue, was written by David Reeves for clarinet and percussion and features Mather de Andrade's wonderful playing, with strong, bright, clear, even tone and attractive percussion from David Bergman.
The 1st movement has middle-eastern rhythms, with strong reminders of northern African music, but also many clarinetistic hints of traditional Jewish sounds. The 2nd movement includes percussion that sounds more central or southern African, but the clarinet writing is strongly European. Within the 3rd movement, more African sounds with the kalimba, etc., but another, more "traditional" solo line, with occasional middle-eastern style flourishes. Finally, the 4th movement is for solo clarinet with wordless vocals, then into a sort of quirky, enjoyably jazzy, Roland Kirk-kind of thing. Very attractive music and music-making.
Next up is Surendran Reddy's Game 1 for Lila. Very American, with hints of Rhapsody in Blue, the Copland concerto, Bernstein's sonata, or something written for Stanley Drucker. Technically challenging,  structurally cohesive and consistently interesting.  Strong playing throughout.
The program closes with Jacob do Bandolim's Santa Morena. Nice display of dynamic control in the opening, which then becomes a trip to Sao Paulo. Excellent guitar work from Cesar Garabini and strong rhythmic, characterisitically Brazilian sounds from both players.
All too brief, but a wonderful collection. Let's hear some more from Kristen Mather de Andrade in the near future….
James Farmingdale
July 2023
---
Comments Off

on Clarinetist Kristen Mather de Andrade's As Bright as the Skies are Blue – A Review
Sorry, comments are closed.