Comments Off

on Yet Another of Kubrick's Early Films
April 14, 2012 by Admin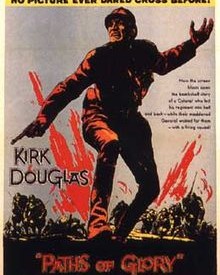 Paths of Glory is Stanley Kubrick's third important early film. Made in 1957, it is set during World War I and stars Kirk Douglas as Colonel Dax, the commanding officer of a unit of French soldiers who refuse to continue a suicidal attack. Dax, a lawyer in civilian life, attempts to defend three of the men who are chosen randomly to be court-martialed on a charge of cowardice under fire and made an example of. In fact, the problem is high-level blundering and the legal action is an attempt to cover bad command.
Douglas is superb and memorable, especially when his sense of outrage can take no more of the smirking collegiality and seeming lack of compassion for the three victims shown by the corps commander. Other cast members, especially George Macready and  Adolphe Menjou as two of the generals, and Ralph Meeker as one of the condemned, are also quite fine. Georg Krause contributed brilliant and stark cinematography.
If you harbor any doubts about war and the particular brand of bizarre logic, bad thinking, moral shabbiness and unconscionable stupidity that constitutes "military intelligence," especially the way army's often treat their own men, this story will confirm your worst suspicions.
Powerfully emotional and highly recommended.
Category Sight | Tags:
---
Comments Off

on Yet Another of Kubrick's Early Films
Sorry, comments are closed.