Comments Off

on Enjoyable Nonsense – Dada's Greatest Hit
April 13, 2012 by Admin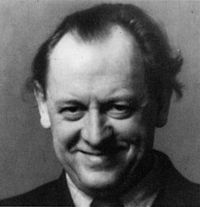 One of my favorite pieces of verbal nonsense/art is Kurt Schwitters' Ursonate. First uttered/sung/chattered/rattled off in 1932, I think it is an enduring/infuriating/hilarious bit of tomfoolery. It is a melange of gibberish poetry/silly sounds/well ordered chaos and a hell of a good time. One could almost get the idea that he conceived it as a way of making fun of the idiocy of official language and thought coming from Berlin in the 1920s and 30s.
Take a look at that face above and tell me he's not a kidder. After all, his real name was Kurt Hermann Eduard Karl Julius Schwitters….
Hear the first section of the piece here:
Hear the entire composition, and read the words, such as they are, at
http://www.ubu.com/sound/schwitters.html
---
Comments Off

on Enjoyable Nonsense – Dada's Greatest Hit
Sorry, comments are closed.