1
April 7, 2012 by Admin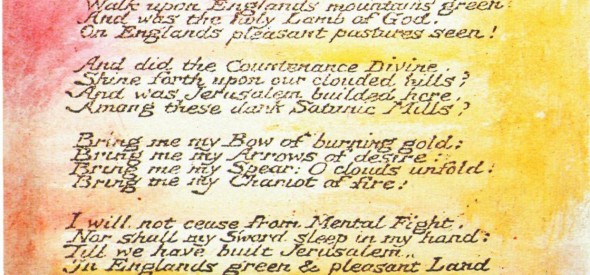 I've loved British progressive rock music for more than 40 years, and still listen to the wonderful creations of the late 60s and early-to-mid 70s. I'm convinced that one reason I work in classical music today is that the music of many of the groups from this genre was grounded in the classics. I got used to larger, more complex forms and structures, so it was an easier transition to the classical world.
I'll have more to say about some favorites in the coming weeks, but let's start with Exhibit A that supports my idea, Emerson Lake & Palmer. Their music came, either directly or with some variation, from such as Bartok, Copland and Mussorgsky, the last two being the most direct inspiration for their recordings of Hoedown and Pictures at an Exhibition.
One of my ELP favorites is their electronic setting of the old English hymn Jerusalem, from the poetry of the great William Blake, whose graphical work can be seen above. Static video, but great music.
Interestingly, keyboardist Keith Emerson's classical training led to several genuinely classical compositions over the years, including his masterful
Piano Concerto No. 1
. Again, static video, but
great
music
Category Sound | Tags:
---
Sorry, comments are closed.