Comments Off

on Great Short Film – Jammin' The Blues – 1944
April 7, 2012 by Admin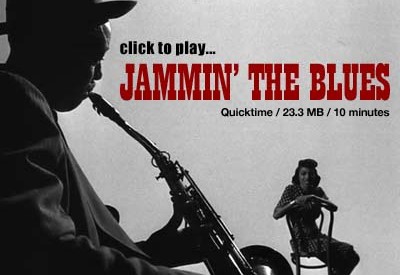 Just saw this last night for the first time – 1944's Jammin' the Blues, an Academy Award nominated short film featuring many of the jazz giants of the day. That's Lester "Prez" Young with his porkpie hat and tilted sax. Others include pianist Red Callender, trumpeter Harry "Sweets" Edison, first drummer Big Sid Catlett, guitarist Barney Kessel, second drummer Jo Jones and tenor saxman Illinois Jacquet.
Very cool footage, nicely staged. This film seems to catch the period when things were moving from the big bands to bebop. I especially like Kessel's solo, and any chance to see Lester Young is always special.
---
Comments Off

on Great Short Film – Jammin' The Blues – 1944
Sorry, comments are closed.