Comments Off

on Great Animated Film – The Illusionist
March 3, 2013 by Admin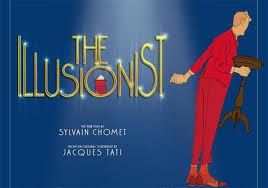 I have in the past recommended the animated films of Sylvain Chomet – The Triplets of Belleville and The Old Lady and The Pigeons (http://soundwordsight.com/?p=61).
Now, I have to recommend to you another Chomet classic, The Illusionist. Set in Paris, London and Edinburgh in 1959, it is the story of an aging, slightly dim-wittted magician on what remains of the vaudeville circuit. He can't quite come to terms with rock and roll and other new forms of entertainment as he finds them in the two larger cities, and, discouraged, accepts a booking at a gorgeous and remote Scottish island. While there, he meets a young lady who ends up trailing him to Edinburgh, where he's heard there's work. To say much more about the plot would be to give too many of its already thin threads away. Suffice it to say it is a film of great charm and also incredible physical beauty. Look at some of these stills:
See the trailer for the film here:
Now, here's maybe the best part of this wonderful film, it's from a script by the great Jacques Tati – a script he never used for a film. Given Tati's notoriously meticulous and long-term style of working, this isn't entirely surprising. However, it is wonderful news that the great French comedian's story has been reborn through the superb animation and cinematic brilliance of Sylvain Chomet and The Illusionist.
Category Sight | Tags:
---
Comments Off

on Great Animated Film – The Illusionist
Sorry, comments are closed.