Comments Off

on Recital by Sandra Coffin, trumpet and Jennifer Peterson, piano – November 17 in Mineola, NY
November 24, 2013 by Admin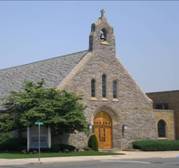 by Independent New York Concert Reviewer Mark Greenfest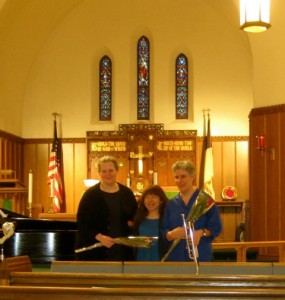 Trumpet Recital
Sandra Coffin, trumpet
Jennifer Peterson, piano
November 17, 2013 at 2pm
Lutheran Church of Our Saviour
132 Jefferson Ave., Mineola, NY
On Sunday, November 17, 2013, trumpeter Sandra Coffin presented a recital at Lutheran Church of Our Saviour in Mineola, NY. Ms. Coffin was assisted by Jennifer Peterson, piano. Featured works were Toru Takemitsu (1930-96), Paths (1994), Richard Wagner (1813-83), Two songs from Wesenodonck Lieder, Im Teibhau and Stehe Still!, Peri Mauer Red Sky (2013),  and Richard Peaslee (1930-), Nightsongs (1973).
The Takemitsku piece has contrasting sections for muted and open trumpet, allusive of past and present, and was written for the legendary trumpeter Hakan Hardenberger. The Wagner piece was arranged by Sandra Coffin for trumpet and piano. In the Hothouse and Stand Still! are both very lyrical, singing arrangements, of entirely different atmospheres and moods. Nightsongs is a nocturnal piece, written for Harold Lieberman, using both the flugelhorn, with its darker sound and the trumpet, and the "contrasting sections of fluid lyricism and more articulated nervousness depict various impressions of the night…." Richard Peaslee, who has written for theater, film, dance, jazz and concert stage is a New York composer now living in Seattle (he's now 83), and was a major composer in NYC. Sandra Coffin, who diffidently says that she's not in Miles Davis' class, is, in fact, a very powerful trumpeter, who has the technical chops for extreme breath control, and keen artistic instincts; she's one of the best living trumpeters in the United States. Jennifer Peterson, the pianist, earns her living as a collaborative pianist; she's also the director of operamission, which presents baroque and classical and other operatic works to the public, showing the choices directors make in the production. Ms. Peterson can perform anything she wants to on the piano, her technique is that sterling and she has lots of stamina, knowledge and artistic insight. (If she prefers to perform Earlkonig on a period instrument, so be it.)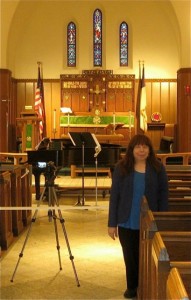 Peri Mauer's piece, Red Sky, is inspired by the changes of sky in pictures of Ms. Coffin's country home on Lake George. Its mercurial mood changes and atmospheric changes are manifest through a very focused and coherent forward-driving line, requiring virtuosic technique, yet paying off with emotionally fascinating rewards. The composer writes "The vibrant and peaceful beauty of the red sky is seen as a continuous shift of varied shades of color, enlivened by changing cloud formations throughout the day." This piece is neither nocturnal nor pastoral; it is beautiful and rousing.
After the concert, hosted by Dr. J. Nagao, there was an after-party with home made goodies, which was very companionable. Mineola, the county seat of Nassau, is about 35 minutes from Penn Station.
Visit composer Peri Mauer at http://www.reverbnation.com/perimauer.
Category Sound | Tags:
---
Comments Off

on Recital by Sandra Coffin, trumpet and Jennifer Peterson, piano – November 17 in Mineola, NY
Sorry, comments are closed.