Comments Off

on More December 2013 Reviews from Mark Greenfest – Music All Over Town
January 1, 2014 by Admin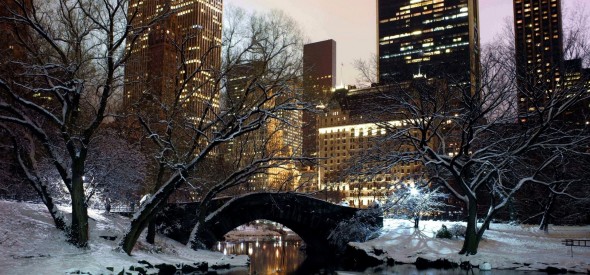 By independent New York concert reviewer Mark Greenfest
Opera Feroce, at the Chapel at Grace House in Manhattan
On Monday, December 16, 2013, I attended a concert by Opera Feroce, at the Chapel at Grace House (218 W. 108th St., 2nd Fl., across the street from Assumption Church; its staircases painted by Keith Haring and its interior reminiscent of much earlier days).
Opera Feroce, with Beth Anne Hatton, soprano, Hayden DeWitt, mezzo-soprano, and Alan Dornak, countertenor, (costumed by Allegra Durante), was backed by Vita Wallace, baroque violin, Kelly Savage, harpsichord, and Motomi Igarashi, viola da gamba, and Deborah Houston, actor (as narrator) – the whole ensemble being most accomplished baroque and renaissance performers.
This Christmas program combined the Italian period singing of Giovanni Bononcini (1670-1747), Magdalene's Dilemma, arr. by Hayden DeWitt from La Maddalena a piedi di Cristo (libretto by L. Forni), (Modena) (Lent, 1690), with La conversione di Maddalena (libretto by R. Rodiano), (Vienna, Emperor's Chapel) (Lent, 1701), with the English language of Benjamin Britten (1913-76), A Ceremony of Carols, Op. 28 (1942), in its eleven sections of Medieval and Renaissance poems in English, done by a trio of soloists and a narrator, with a harpsichord instead of the usual harp as the accompaniment.  The performance was lovely, engaging, inspiring but not overpowering.  As the program notes, Opera Feroce ("opera that bites") is a "spirited and quirky troop of spirited and quirky singers and instrumentalists."
The ensemble is best known for its Baroque pastiche, Amor and Psyche, which has had many performances and acclamation from public and press.  Next to follow, on January 10 & 11, 2014, will be the second pasticcio opera with music Ms. DeWitt took from Nicola Porpora (1686 – 1768), Armenio in Armenia (A Budget Epic), at Zion German Evangelical Lutheran Church in Brooklyn Heights, wherein the Crusader Armenio determines to wreak conversion upon the Pilgrim heretics upon the shores of Massachusetts (a little artistic license).  Having seen the playful first performance a couple of years ago, which was screamingly funny and used the Baroque music straight up, I anticipate a most enjoyable event!
Visit them at http://operaferoce.com/.
International Contemporary Ensemble at Roulette III in Brooklyn
I had the pleasure of going to Roulette (Brooklyn, NY, near BAM) for the free-admission OpenICE at Roulette III, Dec. 17, 2013 at 7pm. The evening featured music of Daniel R. Deehan and Felipe Lara, produced by International Contemporary Ensemble (ICE). The ensemble was led by Clare Chase, flute (McArthur Award winner), with Tony Arnold, soprano, Ross Karre, conductor, and Rebekah Heller, bassoon, among a dozen top-flight artists (half young), and Clare's holiday party and made one appreciate when music soars.
Clare gave the most spectacular flute performance I've seen, in a duet with Rebekah in Lara's Som(bra) (2013). His other pieces, livro dos sonhos, for clarinet and piano (2004) and Tiento, for nine instruments (2013), are masterfully drafted. His Tiento, related to flamenco, combined detuned harp and guitar to pluck tones against the organ-like sound of the ensemble. The games in the clarinet and piano piece, work with agreement (unison), differences (in pitches, rhythms, timbres, and gestures), and 'negotiations' between the players, praising Messiaen and then pushing away from him. The singing notes of Som(bra) got a world-class performance from Rebekah Heller and the most spectacular one I've seen from Clare Chase. Period. The World Premiere of Daniel Dehaan's Trompe l'Corps (concert version, 2013), with its sound-and-light show with Levy Lornenzo, sound, and Nicholas Houfek, lighting, mixed industrial noise-intense passages with lyrical grace by transparent orchestration and singing.  It's a fascinating work.
Felipe Lara is at http://felipelara.com/.
Daniel DeHaan is at http://www.danielrdehaan.com/.
Visit ICE at http://iceorg.org/.
Make Music New York – All Around New York
Make Music, New York (from an idea that originated in Paris), will have a massive, city-wide musical Festival on June 21 for the Summer Solstice.  There will be at least 1,000 public performances in the five boroughs of New York City on that day.  (See, their website – http://makemusicny.org/).
On December 21, 2013, for the Winter Solstice, there were far fewer events, including several processionals, such as Phil Kline's renowned Unsilent Night, the downtown parade of boomboxes.  I went to the quietest and most contemplative of these processionals, the medieval music trek that started indoors at the Park Avenue Church on E. 86th Street and ended at St. Ignatius of Antioch on W. 88th St., with its largest and most priceless part in the semi-darkness of the path of the Central Park Reservoir, surrounded by trees and lake marsh reeds, starlight and moonlight, and flashlight – led by, arguably, the best and most knowledgeable choral conductor in the country (wearing monk's robes, or at least, clerical ones) Harold Rosenbaum, professor of music at State University of New York at Buffalo and Founder and Music Director of both the New York Virtuoso Singers and the Canticum Novum singers. We heard centuries of Latin music, most with a French flavor, and would have sung along, too, if we had not run out of scores….This program was delightful, and I cherish the experience….
Harold Rosenbaum is online at http://www.haroldrosenbaum.com/.
Category Sound | Tags:
---
Comments Off

on More December 2013 Reviews from Mark Greenfest – Music All Over Town
Sorry, comments are closed.