Comments Off

on Bargemusic Here and Now Winter Festival in New York City
January 10, 2014 by Admin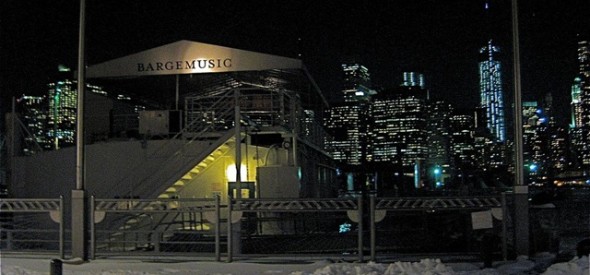 REVIEW: Bargemusic Here and Now Winter Festival, January 2, 3, 4 and 5, 2014, Fulton Ferry Landing, Brooklyn, NY
by Mark Greenfest, Independent New York Concert Reviewer
The Here and Now Winter Festival that Bargemusic hosted, Thursday, January 2, 2014 (at 7pm) through Sunday, January 5, was a bit of a smorgasbord – the first night ran around 2 1/2 hours (during the snowstorm) – but most of its offerings were fairly tasty. As new and recent works go, some had interesting sound, but little structure. Most had both. And, the view from the Barge is incomparable, even if it rocks when some vessel goes by. Its acoustics are lovely.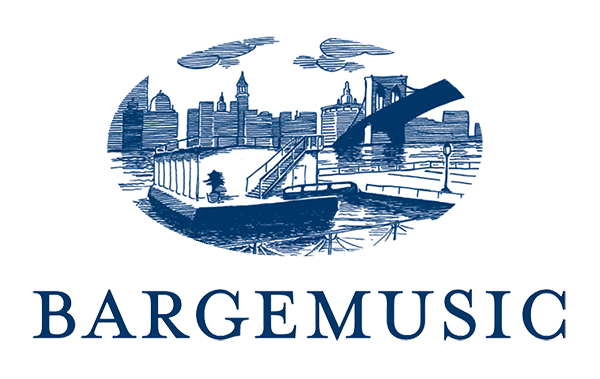 These composers had pieces programmed:  Pierre Boulez, John Zorn, Kenneth Fuchs, Victoria Bond, David Taylor, Peri Mauer, Don Byron, Gyorgy Kurtag, Michael Brown, David Shohl, Sandeep Bhagwati, Paul Desenne, Charles Wuorinen, and Alejandro Vinao. These performers were on stage:  Steven Beck, piano; Michael Nicholas, cello; Olga Vinokur, piano; David Taylor, bass trombone; Blair McMillen, piano; Michael Brown and Adam Golka, piano four-hands; Felix Del Tredici, bass trombone; Peter Evans, trumpet; Miranda Cuckson, violin; Gregory Zuber, percussion; Jennifer Choi, violin, with Pala Garcia, violin, Kyle Armbrust, viola, and Michael Nicolas, cello, as a string quartet; and, Patricia Zuber, flute.  Not all pieces and performers were on every night; and, the performers worked in various combinations.
The bass trombone pieces – David Taylor and Felix Del Tredici – were the most theatrical to look at. The Kenneth Fuchs' String Quartet No. 4, with its structural games and nice sound, I would have liked to have heard more often. Miranda Cuckson performed a tour de force with the long Paul Desenne Sonata for solo violin, which had a programmatic structure. The pianists were superb.  We heard such sophisticated piano works as the Kurtag Jatekok IV(Games) four four hands, right after we heard Blair
McMillen premiere a piece by Peri Mauer, A Little New Year's Flair for piano – Flair for Blair – which is a well-crafted, enjoyable piece, very inventive in using the piano to emulate other instruments, astute and playful; and, then, Michael Brown premiered his Chant for piano four hands (with Adam Golka), which is a very fine piece. Steven Beck and Olga Vinokur showed excellent artistry as pianists. I really liked Victoria Bond's spirited Binary for Ms. Vinokur. The festival ended, Sunday, with the world premiere of David Taylor, TOO Suite, for himself on bass trombone, and Olga Vinokur, piano. Here jazz funeral blues met poetry Schubert used, and gave the festival a theatrical, popular send off. Dave is acknowledged to be the master of this instrument; Felix Del Tredici is an emerging master, gave the festival a funky feel. All in all, this winter program provided a good compliment to the Labor Day weekend festival, and a change from the three B's and standard fare – the Barge alternates classical, with modern classical and early music.
Thanks to Mark Peskanov, the Bargemusic director, for a most memorable experience!
Visit Bargemusic at http://www.bargemusic.org/index.html.
---
Comments Off

on Bargemusic Here and Now Winter Festival in New York City
Sorry, comments are closed.