Comments Off

on New York City Concert Notes and Reviews by Mark Greenfest
March 2, 2014 by Admin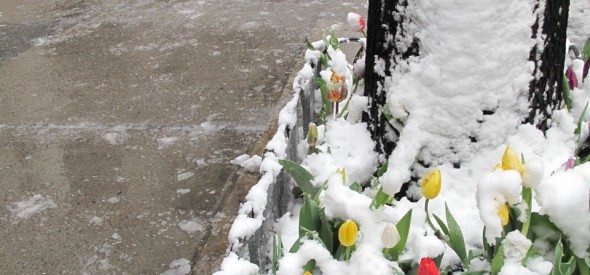 By independent New York concert reviewer Mark Greenfest
The Bronx Opera, now in its 47th Season, is one of the finest regional opera companies in this country. Period. They presented four performances of Kirke Mechem's (1925-), The Rivals, on a libretto by the Kansas-born (and Stanford and Harvard-educated) composer, of the play by Richard Brinsley Sheridan, the great Anglo-Irish playwright of the late 18th century. The location has been updated to a Newport, RI, locale, circa 1900 – the age of conspicuous consumption and of nascent women's liberation.
The first two performances were at C.U.N.Y. Lehmann College's Lovinger Theater in the Bronx; the January 18, 2014 (which I saw) and the 19th at the Kaye Playhouse at C.U.N.Y. Hunter College at E. 68th St. and Lexington. Ave. in Manhattan. This opera
company performs three types of performances – standard rep, like La Traviata, relative rarities that get revived, like the Drei Pintos, and relatively new operas, like The Rivals.  All productions, however, keep the public in mind, and are selected to be entertaining. The direction (Benjamin Spierman), stage design, costumes and lighting are always most professional.  The orchestra (most of the performers I don't know) are hand-picked. The singers are emerging talents and experienced professionals, and have pleasant and skilled voices – there is truly fine quality of the singing and the performers are obviously well-rehearsed. Michael Spierman, the Music Director, conducted with considerable expertise, albeit the music being a bit loud at times.  (The orchestral pit at the Kaye functions like a boombox and it's a difficult place for operas.)
In the cast on the 18th,  the leads were performed by Lindsay Ohse, Julia De Vaere, Calibira Jacobsen, Allyson Herman, Brad Barron, Patrick McNally, Blake Friedman, Chad Cygan, and C. David Morrow. The New York Times and Taminophile wrote reviews complimentary of the production and of the singers; I really enjoyed the performance, and The Rivals is very entertaining, comic opera in two acts (running time around two hours).  Although this is very much a comic opera (akin to Rossini in its complexity), it's in English and accessible to American audiences, and, in that regard, shares a kinship with the operettas of Gilbert and Sullivan.  I can't describe how enjoyable it was, but I can kvell! (i.e., gush with pleasure).
Visit them at http://www.bronxopera.org/.
The Julliard School held its 2014 annual Focus! Festival, curated by Prof. Joel Sachs, this year, Alfred Schnittke's World, celebrating his music and those of his friends, Sofia Gubaidulina, Giya Kancheli, Aarvo Part, and Valentin Silvestrov. Each of these artists broke away from Soviet realism and from modernism to find his or her own sound, informed by the past and present. I listened to the final orchestral program, with the always well-rehearsed Julliard Orchestra conducted by Anne Manson. They performed three pieces, Friday, January 31, 2014, at 8 pm in Julliard's Peter Jay Sharp Theater.  Sofia Gubaidulina, Fairy Tone Poems (1971), an early piece, is somewhat programmatic in nature – a piece of chalk is absorbed in humdrum activity until a boy seizes upon it and draws fantasy world. Its sound is colorful and cinematic, somewhat akin to Prokofiev.  Giya Kancheli, And farewell go out sighing… (1999), on text from Shakespeare, featured countertenor John Holiday and violinist Ken Hamao, both excellent young artists.  In music, Kancheli wrote, one finds eternal truth and hope.  This piece's text is assembled from various Shakespeare's poetry; the piece itself is complex in texture and sound.
Alfred Schnittke, Symphony No. 8 (1993), which he wrote after having severe strokes, closed the program. Schnittke's symphonic piece often sounds like a concerto for orchestra – solo voices and small sections makes sounds, akin to Mahler, rather than the whole orchestra going at it at once.  The five sections are of different lengths – the central slow movement being 17 1/2 minutes, one of the slow movements being only 2 minutes long. Joel Sachs noted that the symphony "proclaims the tremendous power latent in very compact materials stripped of decoration so the music's intensity always shines through." Conductor Anne Manson balanced the orchestra perfectly and they gave a wonderful performance. The Focus! Festival has, for years, showcased various aspects and schools of music and is one of the landmark festivals in the world in doing so. Many thanks to Joel Sachs and to the Julliard School performers for offering this free of charge to the public again!
More about it at http://www.juilliard.edu/about/newsroom/2013-14/focus-2014-presents-alfred-schnittkes-world-six-free-concerts-january-24-31
Superspy is a cabaret-like revue of operatic and musically theatrical songs on the subject of government secrecy and secret behavior, sung by the incomparable soprano Helene Williams, accompanied by composer Leonard J. Lehrman on the piano. It's thoroughly entertaining (as well as thought-provoking), in the traditon of Tom Lehrer spoof… spooks (?), with funny lyrics by Joel Shatzky.
See videos from Superspy and other Leonard J. Lehrman creations at http://www.youtube.com/user/ProfEHLehrmanMemFdn?feature=watch.
Recently, I attended the What a Neighborhood program for Valentines Day that Vita Wallace assembled – musical pieces in lieder that Marlene Dietrich sang over the years, and a discussion of love from Plato's dialogues, with munchies and libations…. The What a Neighborhood program on the Upper West Side has done much over the years to create a neighborhood atmosphere and community of intention for musical artists, with a rich, warm spirit for all. Rheir website is at http://www.orfeoduo.com/neighborhood.html.
The Italian Academy at Columbia University (Amsterdam Ave. at 117th Street) hosted a world-renowned pianist, Emanuele Arciuli of Bari, Italy, at its free concert series on Wednesday, February 12, 2014 at 7pm.
Arciuli performed three known pieces on the first half:  Franz Joseph Haydn (1732-1809), Andante with Variations in f minor, Hob. XVII:6, Franz Liszt (1811-1886), Hymne a la nuit, and Bela Bartok (1881-1945), Out of Doors, in five sections, with titles With Drums and Pipes, Barcarolla, Musettes, The Night's Music, and The Chase, which seemed programmatic in its variety.  His technical prowess is amazing. He seems in a league with Andras Schiff, the world's greatest living pianist, with his technical range, from delicate to thundering.
During the second half, we heard three pieces, two of which were New York premieres devoted to Native American themes. Kyle Gann, (b. 1955), professor of music at Bard and former chief critic of the Village Voice, Earth-Preserving Chant (2010), and Martin Bresnick, (b. 1946), professor of music at Yale and the Ives recipient, Ishi's Song (2012), got premieres, and John Adams (b. 1947), Phrygian Gates (1977), got a rehearing. I wrote that the Gann piece has a chant-like layering of sound with lyrical songfulness in juxtaposition with dance-like chords – a reflective tribute to Native American traditions. The Bresnick piece has crisp, lyrical chant – as the basic motif is repeated, various elements are varied. This piece is very refreshing – like sherbet on a hot afternoon, and just as tasty and sweet. Adam's well-known piece is a minimalist classic – repeated elements with slight variations layer over each other, and produce a kaleidoscopic effect. There is a spiritual quality to this piece and a sense of radiant energy, which builds in intensity and becomes like a solid wall of sound. Arcuili is a masterful performer – his phrasing, dynamics and interpretative sensibility are superb.  The warm, wood-rich acoustics of the hall provide a lovely venue.
Visit Emanuele Arciuli at http://www.emanuelearciuli.com/EmanueleArciuli.html.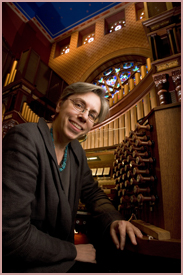 I saw Gail Archer, organist, perform a program called The Muse's Voice, A Celebration of Women Composers at Central Synagogue in New York on February 19, 2014, at 7:30pm.  Selections included works by Jeanne Demessieux (1921-68), Nadia Boulanger (1887-1979), Jennifer Higdon (b. 1962), and Judith Bingham (b. 1952). Ms. Archer, who is a noted performer of Liszt, Bach and Messiaen, among others, is one of the best American organists; these pieces range from the beautiful to the ecstatic, and she has released a CD of these extraordinary organ works. She's at http://www.gailarcher.com/index.html.
Amuse Singers & Les Demoiselles de Notre Dame combined vocal forces to perform A Feast for Our Lady, with a capella and chamber-orchestra and organ-supported vocal pieces at the Church of St. Igatius of Antioch, W. 87th St., in Manhattan on February 15, 2014. The program was gorgeous and the acoustics lovely. Gregorian chant
and robust pieces from the 14th century Libre Vermeil de Monserrat and by William Byrd (c. 1540-1623) share a program with Guissepe Verdi, Francis Poulenc, and Jehan Alain, as well as contemporary pieces by Eleanor Daly, Frank La Rocca, and Tarik O'Regan, which are religious and timeless. The Amuse Choir, which Alan Kozinn had praised for its mixture of serenity and intensity, was joined by several Barnard students and choristers from the church of Eglise de Notre Dame. The combined forces have beautiful voices and the endeavor is entirely praiseworthy.
New York Composers Circle, a membership organization of composers and performers held a concert at St. Peter's Lutheran at Citicorp Center, Feburary 14, 2014, with pieces by Memrie Innerarity, Nailah Nokembeko, David Picton, Richard Brooks, Dana Dimitri Richardson, and Max Giteck Duykers. The performers included such respected or nationally reknowned artists as pianists Yvonne Troxler and Craig Ketter, flutists Michael Laderman and Margaret Lancaster, violinist Lynn Bechtold, clarinetist Amy Advocat, cellist Kirsten Jerme, oboist Greg Weissman, and trumpeter Ron Pamposa.
The Innerarity piece, Dialogue for Trumpet and Piano, is very amiable and joyous. Nailah Nombeko, Piece for Oboe and Piano, is beautiful and invigorating – lyrical lines, with stacatto piano contrasting with legato oboe. David Picton's Lovers' Dreams, has a Debussy-like lyrical playfulness. Richard Brooks' What Goes Around… has a taut dialogue with lovely sound. Dana D. Richardson's Hebraic Sonata, breathes new life into ancient folk and religious melodies – the lyrical clarinet line and percussive piano line vary enough to be quite fascinating. Max G. Duykers' Deep Lines, has a painterly treatment – gentle waves, flutter-tonguing and other colorist impressions provide an intriguing atmosphere, akin to Debussy's Afternoon of a Faun.
Their site is http://nycomposerscircle.org/.
---
Comments Off

on New York City Concert Notes and Reviews by Mark Greenfest
Sorry, comments are closed.