Comments Off

on Time for Some Goons
March 1, 2014 by Admin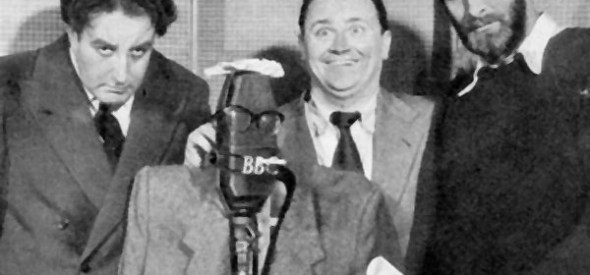 Have you heard The Goon Show? You'll probably say no and not know what I'm talking about.
That's okay, you know it. If you've seen Monty Python's Flying Circus, the Beatles films, heard The Firesign Theater, or any number of other British and American comedy creations of the 1960s and beyond, you know The Goon Show.
It was a weekly BBC radio comedy programme that ran from 1951 to 1960 and starred Harry Secombe, Spike Milligan (who was responsible for most of the scripts), young Peter Sellers and, in the early days, Michael Bentine.
It was wonderfully silly and enjoyable, with stories that didn't make any sense, indelible characters (voiced mostly by Milligan and Sellers), such as Eccles, Henry Crun, Major Dennis Bloodnok, Bluebottle, Hercules Grytpype-Thynne, Little Jim and Neddie Seagoon (played by Secombe), wry commentary by announcer Wallace Greenslade, musical interludes by singer Ray Ellington and harmonicat Max Geldray and a raucous orchestra led by Wally Stott. The show also featured a wild universe of sound effects, including a bagpipe taxi, speeded-up and slowed-down voices and some truly baffling sounds from whence we can only guess.
Here is a small sample of a conversation from one episode between Eccles (Milligan) and Bluebottle (Sellers):
And if you like that, here's an entire episode, complete with a piano-playing penguin:
You see, you know it – and it's still wonderful.
---
Comments Off

on Time for Some Goons
Sorry, comments are closed.