Comments Off

on May and June in NYC Music Reviews
June 21, 2014 by Admin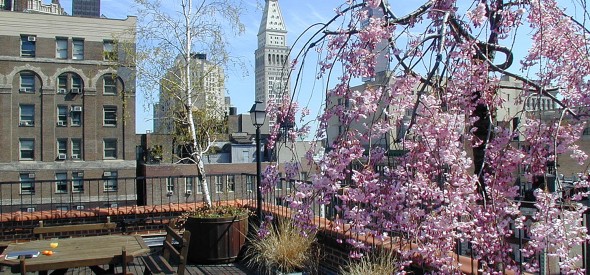 by independent music critic Mark Greenfest
Svjetlana Bukvich had a CD Release Concert on Tuesday, May 20, 2014, at the Cutting Room at 8:30pm. The CD is called Evolution. The program included these pieces (with timings):  Before and After the Tekke (8.37), Yo Move Me (6.48), Over Water Over Stone (9.23), Sabih's Dream (9.47), and Tatoo (4.20).  Artists included Cornelius (Neal) Dufallo, violin, Svjetlana Bukvich, synthesizers, Gareth Flowers, trumpet, Patti Kilroy, violin, Martha Mooke, viola (recorded), Kamala Sankaram, soprano (recorded), and Ha-Yang Kim, cello (recorded).  There were visuals by Kevork Mourad and by Nel Shelby, Kate Freer and Dave Tennant, the latter of Interior Designs, a dance piece by the Carolyn Dorfman Dance Company (Tatoo).  Ms. Bukvich is one of the most interesting electronic writers around, and writes electronic and acoustic pieces that are passionate, articulate, sophisticated and moving.  Her bio reads:
"Her genre-bending performances, described as "ecstatic musical experiences" (New Music Connoisseur), weave deconstructivist dance suites with polymicrotonal sympho-rock tone poems, experimental prog rock/world jazz fusions with musique concréte spirituals, and contemporary art-song with electronica. As an artist with exceptionally wide range, and a passion for innovation, she has worked with instrumentalists such as Martha Mooke, Tony Levin, Mari Kimura, Rob Schwimmer, Cornelius Dufallo, Patrick Derivaz, Johnny Reinhard, Leonardo Suarez Paz, Kamala Sankaram, Ha-Yang Kim, Gareth Flowers, Susan Aquila, and Mordy Ferber. Her "powerful and atmospheric, evocative of the sacred" (IAWM Journal) sound draws from the energies of the places she has lived in – Addis Ababa, Edinburgh, Boston, New York City, and Sarajevo – telling stories of love, loss, trial and triumph."
Visit her at http://www.svjetlanamusic.com/.
The New Amsterdam Singers presented a concert at St. Ignatius of Antioch Church, Thurs., May 22, 2014 at 8pm, which Anthony Tommasini, chief critic of the New York Times, reviewed, Full Fathom Five:  Shakespeare in Song.  Pieces included works by Knud Jeppesen (1892-1974), Jaako Mantyjarvi (b. 1963), Alaric Jans (b. 1949), Tom Benjamin (b. 1949), Robert Washburn (1928-2013) and Gyorgy Orban (1947), as well as by musical luminaries Ralph Vaughan Williams (1872-1958), Frank Martin (1890-1974) and Hector Berlioz (1803-1869).  The pieces varied in style and technique. The choir is one of the best choirs in New York City. Music Director Clara Longstreth built the program on the theme of song in Shakespeare, and the music was splendidly presented.  (Because Mr. Tommasini gave it a thorough review, I'm writing a brief one.) The Siingers are online at http://www.nasingers.org/.
The New York Philharmonic presented orchestral pieces by Julia Wolfe (b. 1958) and by Steven Mackey (b. 1956) on Friday, May 30, 2014, at 8pm, as part of the NY Phil Biennial.  Julia Wolfe's piece, Anthracite Fields (2014), is brilliant. Her musical technique is similar to her mentor Steve Reich's and her colleague David Lang's. She was the runner-up for the Pulitzer Prize, teaches music at NYU, co-founded Bang on a Can, and is a careful craftsman. Her piece takes poetry and speeches related to coal mining and blends them with visuals and music. Julian Wachner conducted the Bang On a Can All Stars and the Choir of Trinity Wall Street.  Steven Mackey's piece, Dreamhouse (2003), with the New York Phliharmonic conducted by Jayce Ogren, and with Rinde Eckert, vocalist, Synergy Vocals and the Catch Electric Guitar Quartet, is an excellent showpiece for Mr. Eckert, who has a remarkable vocal range, but the text and the music is somewhat abstract, drier and a bit difficult to absorb. Mr. Mackey, who teaches at Princeton writes some wonderful chamber music, however.
Spring for Music, the orchestral festival that was co-sponsored by Carnegie Hall, had its fifth and final season this year.  It's sad when a festival of this nature – bringing top orchestras and their home audiences to New York, and presenting a variety of truly interesting programs, with $25 tickets, passes.
First, I saw the New York Philharmonic, conducted by Alan Gilbert, on May 5 perform the New York premiere of Christopher Rouse, Requiem, with Jacques Imbrailo, baritone, the Westminster Symphonic Choir (under Joe Miller) and the Brooklyn Youth Chorus (under Diane Berkun-Menaker).  (I believe one can still listen to the piece for a few more days on the internet.)  This is a brilliant composition and one of the most major choral works of the twenty-first century. As its texts, it uses poetry and texts by Seamus Heaney, Siegfried Sassoon, the Latin Requiem with its Dies Irae and other sections, Michelangelo Buonarroti (No. 86 and 190), Ben Jonson, John Milton,  and John Ellerton, on grieving and dying.
The piece is overwhelming in its intensity, although it varies from quieter sections to full chorus. My favorite passages were some of the thinner and more colorful ones done by the delicate young voices of the youth orchestra. Although this was overwhelming, it is unquestionably a masterpiece….
Next, I saw the Seattle Symphony, June 6, led by Ludovic Mortlot, perform the New York premiere of last years Pulitzer prize-winning piece, John Luther Adams (1953-), Become Ocean, paired with Edgard Varese (1883-1965), Deserts, and Claude Debussy, La Mer. The program is about relationships with environment.  The Adams piece is a sound environment – without the formal structures of traditional music, and it's long.  "Deep within the human imagination," said Adams, "we sense that nature itself is our deepest source of creative forms and energy."  One can sense the waves and tides within Adam's music, and it is carefully balanced and articulate. Occasionally, the music waves augment each other and form powerful climaxes; sometimes, it is is quieter and subtle.  It could overload the senses at times, but is very beautiful.
Then, I saw the Wiinipeg Symphony Ochesta, led by Alexander Mickelthwaite, perform a North American program of R. Murray Schafer (1933-) Symphony No. 1 in C minor; Derek Clarke (1974), 13 Inuit Throat Song Games with Tanya Tagac, throat singer; and Vincent Ho (1975-), The Shaman: Concerto for Percussion and Orchestra, with Dame Evelyn Glennie, percussion. The Schafer piece, by Canada's best-known orchestral composer, is stunning. The Clarke piece, written around the Tuvan throat singer, is very inventive and fascinating. And, the Ho piece, is truly remarkable – Evelyn Glennie is one of the world's finest percussionists and this piece showcased her talents.  (It reminded me of Stravinsky's Rite of Spring.)
Last, I saw the Rochester Philharmonic Orchestra, conducted by Michael Christie, perform the opera of Howard Hanson (1896-1981), Merry Mount, which held the Met Opera record for curtain calls (50) in 1934. It's a lush, Romantic piece, with its plot revolving around themes of Puritanism and of hedonism, and its melodramatic libretto seems dated.  But, it's music, swirling and linear, is colorful, powerful, dramatic and compelling; and, I'm very glad that I caught its revival. Its 17 person cast sang together with the Eastman-Rochester Chorus and the Bach Children's Chorus of Nazareth College.
It's highly unfortunate that this Festival, which brought the home audiences of these orchestras as well as the performers to New York, has come to its finale.  (Hopefully, if there are funders, some similar orchestral festival will emerge sometime.) Read about it at http://www.springformusic.com/.
The New York Philharmonic recently concluded its first NY Phil Biennial Festival, June 2014.  I heard the Phil June 5, conducted by Alan Gilbert, with Midori as soloist (the night of the retirement party for concertmaster Glenn Dicterow, violinists Yoko Takebe, Marc and Judith Ginsberg, and trumpet Phil Smith).  That night, a Thursday, the orchestra premiered new pieces by Julia Adolphe, Dark Sand, Shifting Light;  by Peter Eotvos, DoReMi, Violin Concerto No. 2 (2011-12, rev. 2013), and Christopher Rouse, Symphony No. 4, in two movements played without pause – Felice and Doloroso. The Rouse piece is one of the best works that he has done – deftly balanced, colorful, and vigorous – extremely well-orchestrated, from the strings' sixteenth-notes to the brass' chorale, showing off sounds of various instruments and sections, much like Gustav Mahler.  Peter Eotvos, who conducted the Ensemble Intercontemporain at IRCAM in Paris, wrote a inventive piece for Midori's violin and the NY Phil, varied and intriguing, showing sophisticated craft in its timbres and textures, although its shape is hard to pin down. Julia Adolphe, who is working on her doctorate in composition wrote a stunning and highly focused piece that used the orchestra and its its sections very well and was tightly shaped. The Biennial Festival brought together a lot of ensembles, performers and composers during its two weeks and was quite exciting.  Hopefully, it will return in two years, as promised. More about it at http://nyphil.org/files/biennial/index.html.
The Chelsea Music Festival, now in its fifth year, June 6-14, 2014, led by conductor Ken-David Masur of San Diego, celebrates Brazil and Germany in 2014. The Festival has concerts, lectures and events at various venues in New York City, in the Chelsea area, including at the New School, the General Theological Seminary, and St. Paul's
German Lutheran Church. Concert programs include music by well-regarded contemporary composers such as Augusta Read Thomas, Gregor Huebner, Alexander Lunsqui, Phillip Lasser, and other living composers, as well as works by C.P.E. Bach, Richard Strauss, Brahms, Villa-Lobos, Felix Mendelssohn, Schoenberg, and other well-reputed German and Brazilian composers.  Further, the Festival incorporates a food and drink component, with noted chefs from the Culinary Institute of America faculty and other chefs participating in the program.  Monday night, June 9, the Chelsea Music Festival had a lecture on C. P. E. Bach precede a program of music called Silent Moons and Brahmsian Schoenbergs, with two short Schoenberg pieces from 1895-96, Felix Mendelssohn, arranged by Aribert Reimann, Oder soil es Tod bedeuten (1996) with the very fine soprano Adrienne Pardee and the Amaryllis Quartett, the New York premiere of Augusta Read Thomas' Silent Moon (2006), with Katie Hyun, violin, and Mihai Marica, cello, and the well-known Brahms Clarinet Concerto (2004), with Danny Goldman, as soloist. The music selections are all of very good or excellent music, in whichever genre. Likewise, the performing artists – many of whom are young – are very competent players, some of them outstanding with excellent reputations and soloist careers.  he Thomas piece, Silent Moon, opens with a mostly singerly violin line supported by a near drone cello line, which soon transforms into another vivid pattern, with the duo performing a more astringent dance, followed by a contemplative serenade. Ms. Thomas has a deft and nuanced touch for moods – deep and lighter, as well as for timbre and texture. She is a remarkable miniaturist – every note tells.
The Chelsea Music Festival has gotten excellent reviews from the New York Times and
other press in the past, and this appears to be a very worthwhile Festival. It's fortunate that it's been in New York during the month of June for several years now. I heartily recommend it. More about it at http://www.chelseamusicfestival.org/.
Category Sound | Tags:
---
Comments Off

on May and June in NYC Music Reviews
Sorry, comments are closed.