Comments Off

on New York Scandia Symphony in Concert – June 5, 2014
June 22, 2014 by Admin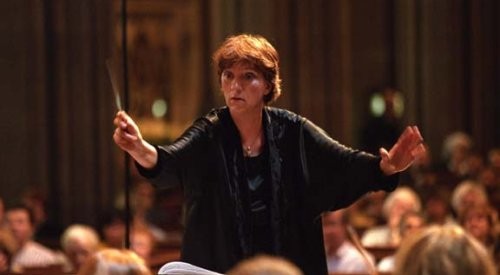 New York Scandia Symphony in Concert
June 5, 2014
Peter Norton Symphony Space
2537 Broadway, New York NY
Being an advocate for Scandinavian music can't be easy. I'm guessing there are probably a number of people for whom this part of the world's composition begins and ends with Grieg, Sibelius and Nielsen, with maybe a more recent detour at ABBA. Of course, that's not the case. The Scandinavian countries all have long, extremely rich and marvelous musical histories, leading right up to the present – just ask their individual national music information centers.
The New York Scandia Symphony and its Conductor and Music Director Dorrit Matson serves as a de facto New York branch office of the Danish, Swedish, Finnish and Norwegian MICs, and offers wonderfully well performed programs of musical discovery and advocacy.
The first offering on the June 5 program was Frank Foerster's Suite of Scandinavian Folk Melodies for Viola and String Orchestra, with the composer (also the orchestra's principal violist) as soloist. This is a charming compilation of ideas with lots of images of rugged coastlines, midsummer dances and Babette about to serve dinner. The piece features some lovely, sweetly emotional passages and a nice lower strings duet, highlighting the solo viola with cello. The piece is programmatic in a good sense, but is perhaps a bit too long. The orchestra was fine throughout, with strong leadership from Ms. Matson.
Next up was Jesper Nordin's Concertino for Trumpet and Strings, with soloist Nicolai Viltoft, the very tall principal of the Royal Danish Orchestra. The Alarming opening reminded me a bit of the mimimalism of Pelle Gudmunsen-Holmgreen's Tricolore, with a drone that everything else plays off of as the center piece of the movement. Alarming also featured a nice trio section with soloist, violin and cello. Especially strong playing here.
The soloist Viltoft was quite fine and is a very strong trumpeter, quickening and slackening the tension in the music, and presenting a fine tone and tensile strength throughout the range of the instrument.
The Calming and Charming movements are also designed on this build tension, release and rebuild pattern, and are quite wonderful. Charming even offers a slightly demented, and perhaps tipsy dance with growling soloist. This morphs into a lovely, calm ending, ethereal and uplifting.
Wonderful solo work throughout.
The Concertino, commissioned by the Scandia Symphony, showcased big sounds and solid playing from this well prepared little orchestra. Matson drives her players with a sure and steady hand and knows how to listen to soloists. See a section of the piece below.
Andrew Acker's
Arctic Snows
presents new sounds for strings – at least a search for new sounds. Some are interesting, some are not, but at least the music is looking for something. A few real ideas came through now and then, but this was mostly episodic, with little sense of forward direction – like being lost in artic snows.
Asger Hamerik's Symphonie Sprituelle No. 6 reminded me of tripping the northern light fantastic – a wonderful discovery. This beautiful oldie gave the orchestra something they could really dig into. Matson had prepared them beautifully and got rich textures and strongly committed playing.
The piece has a wonderfully distinctive Scandinavian sound – from the category of "I don't know how to define it, but I know it when I hear it." I heard it and thoroughly enjoyed it. For its age, this is fresh and lovely music that aims to please, and does so abundantly.
American audiences could benefit from more hearings of this work and many other treasures in the Scandinavian symphonic literature.
Visit New York Scandia Symphony at http://www.nyscandia.org/index.html.
Jeffrey James
Category Sound | Tags:
---
Comments Off

on New York Scandia Symphony in Concert – June 5, 2014
Sorry, comments are closed.