Comments Off

on More New York City Concert Reviews and Concert Notes
July 5, 2014 by Admin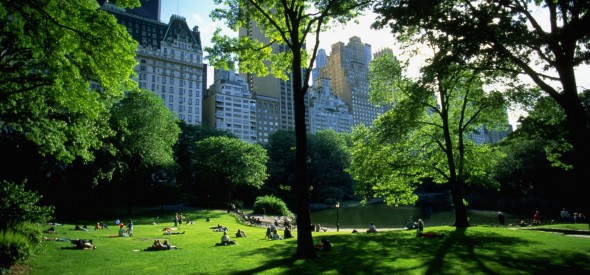 by independent critic Mark Greenfest
Lou Rodgers, in her 40th season of producing the Golden Fleece Ltd., hosted Selections from Musicals by Darryl Curry (the director of music at St. Clement's Episcopal). I saw it Friday, June 27, 2014 at 8 pm; it repeated Saturday.  Mr. Curry's music tells a tale and stands well on its own. He's absorbed craftsmanship from Sondheim and others. On the first half, we heard single or double selections from The Elephant Piece, Mesmerized, George Q., The Traum (the dream), and Dorian Gray.  I loved the song "I choose" from Dorian Gray as sung by the excellent Gilbert Mendoza. In the second half, we saw a lot of excerpts from Buzz…Son of a Bee by prolific playwright Andrew Johns and his daughter, actress-singer Ariana Johns.  It starts with a silly riff on Shakespeare's theater, with a lot of inside jokes, and continues on to modern theater.  In its better moments, it's hilarious. Darryl Curry is a most talented musical theater composer.
Nunc,  a chamber orchestra with Miranda Cuckson as its artistic director, presented On the Threshold of Winter, a monodrama in two acts (world premiere), music by Michael Hersch, text adapted by the composer from The Bridge by Marin Sorescu in the English translation by Adam J. Sorkin and Lidia Vianu at the Brooklyn Academy of Music Fishman Space on June 25, 2014, at 7:30 pm. Roger Brunyate stage directed and Tito Munoz conducted. Ah Young Hong, soprano, a seemingly tireless performer with a lovely tone, sang The Voice.  Leah Inger Murphy acted The Other.
Nunc's performance was excellent. This is a monodrama – not an opera – on a dark theme.  The poet, who is dying from cancer, has vignettes acted out by the soprano.  It is very dark. It's opening prologue was mesmerizing and exquisitely written. The piece, although it has some passages that are too high, was very well written, but it does not have the dramatic contours of an opera. The New York Times  published a thorough and insightful review by Corrinna Fonseca-Wollheim.
http://nuncmusic.org/
.
Gotham Chamber Opera presented The Raven at the Gerald J. Lynch Theater at John Jay College, May 28-31, 2014.  (Anthony Tommasini wrote a strong positive review in the New York Times.) This operatic piece is not an opera, but a monodrama, with music by Toshio Hosokawa, after the poem by Edgar Allan Poe. Luca Veggetti directed and choreographed it and Neal Goren conducted. The cast consisted of two performers, mezzo-soprano Fredrika Brillembourg and dancer Alessandra Ferri, who gave excellent performances. The music is atmospheric with "luminous colors and exhibiting a huge emotional range." (Goren.) Because it's not an opera, the action is subtle. The interaction between the singer and the dancer, staged austerely, is fascinating. It's a slow and contemplative piece and it got loud applause from an audience of avante-garde theater and music buffs, but it is subtle – there's more characterization than drama. Visit Gotham Chamber Opera at http://www.gothamchamberopera.org/.
Bargemusic presented an all David Del Tredici program with David Leisner, guitar, David Del Tredici, piano, and Tom Meglioranza, baritone, at its Here and Now Series, on Friday, June 6, 2014 at 7 pm.  Pieces were Facts of Life for solo guitar (2010) and Love Addiction for baritone and piano (1997/2007). The guitar work had some extremely virtuosic playing and a lot of variety and exuberance, although it is a bit long. Likewise, the baritone and piano work has an expensive sweep of technique and mood, very varied and very showy. DDT (Del Tredici) is known for being a pioneer of the neo-Romantic revival, and he revels in being over-the-top and expressive in emotions. Visit The Barge at http://www.bargemusic.org/.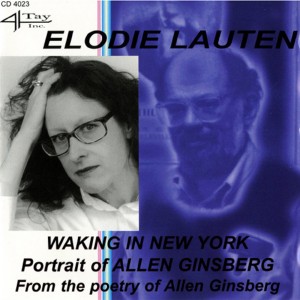 After Elodie Lauten's death, a few days after I saw her Waking in New York, the opera about New York City, with libretto by Allen Ginsberg, in a concert performance conducted by Kenneth Hamrick with the American Virtuosi, Sunday, June 1, 2014, at 3 pm, at St. Mark's in the Bowery, I was too choked up to write about the piece. Now, I can. This opera is about New York City through the eyes of poet Allen Ginsberg. It featured Mark Duer as Allen, Meredith Borden as Compassion, Catherine Rothrock as Freedom 1, and Mary Hurlbut as Freedom 2, with the Choir of St. Mark's Church in-the-Bowery. It's a brilliant, neo-Romantic composition. The acoustics of the church are a little jumpy for vocal pieces; fortunately, the ensemble recorded it in a studio at . This is the now-definitive version of the piece (2014) in 21 scenes. Allen Kozinn had written in the New York Times, years before, that this piece is "Lovely, effecting and affecting." I could not agree more. More about the opera at http://www.elodielauten.net/wakingnew.html.
Category Sight, Sound, Word | Tags:
---
Comments Off

on More New York City Concert Reviews and Concert Notes
Sorry, comments are closed.