Comments Off

on "I've Got the Tune?" No, A Brecht-Weill Blitz Concert/Book Review by Leonard Lehrman
September 12, 2015 by Admin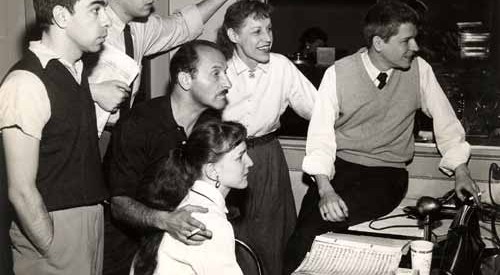 Last February, we started receiving messages from Copland House advertising I've Got the Tune – On Stage with Marc Blitzstein – Sunday, April 19 at 3 PM at Merestead in Peekskill, NY. Very excited at the prospect of seeing again Marc Blitzstein's autobiographical song play of that title, in which Lotte Lenya had made her radio debut in 1937, and whose Boston premiere I had adapted, directed and starred in, receiving "Bravos" in person from Blitzstein's younger nephew Christopher Davis and Leonard Bernstein, both in attendance (http://ljlehrman.artists-in-residence.com/adaptations/I'veGotTheTune.html, Dec. 5, 1970), we looked forward to what would be the first NY staging of the work since the 1988 Soho Rep Blitzstein Project (that inspired our Blitzstein Cabaret – https://www.youtube.com/watch?v=mk08M4UoHWs&list=PLmhHI8m9j-XuPyTVvlVqcS-1ALntXTUcm the following year, issued on Premier Records), and our Blitzstein Centennial Concerts (http://www.footlight.com/product.cfm?product_id=33133) of 2005 (issued on Original Cast Records).
Alas, it was not to be.  The program turned out to include not one note of the work in question, having been rather, according to their March publicity, "named after a Blitzstein song" – which it wasn't either.  The producers corrected that wording, after I wrote them, defending their choice of the program's title, however, adding insult to injury, emailing me: "it's highly unlikely that anyone reading it might confuse this with a performance of an admittedly-obscure radio play."
Not having been at Merestead before, we arrived at the concert just minutes before its start, having alas been misdirected by mapquest, and found seats only at the back of the hall. "Where is Leonard Lehrman, when I need him?" baritone William Sharp (at right) was heard to mumble, as he fumbled, restarted, and fumbled again between the 2nd & 3rd verses of Blitzstein's ode to the art of panhandling, "Penny Candy", from No for an Answer. This number, and most of the others he sang, he had first performed and recorded (for Koch Classics), quite well, with Steven Blier in NYFOS's first concert, honoring Blitzstein's 80th birthday, back in 1985.  At the time, and subsequently, I had urged both of them to consider including excerpts from the main character Mendel's music in Idiots First (http://ljlehrman.artists-in-residence.com/IdiotsFirst.html) (which Jose Ferrer had called "the role of the century"), and/or Vanzetti in Sacco and Vanzetti (http://ljlehrman.artists-in-residence.com/SaccoAndVanzetti.html), which Blitzstein had called his "magnum opus").  But that advice has yet to be followed, though Sharp's voice is still in pretty good shape, and we'd love to hear it in that repertoire.
Accompanying Sharp, and soprano Amy Burton, at Merestead, was her husband, the distinguished pianist and composer John Musto, whose jazz background served him well in little interpolations here and there.  Burton was also heard to advantage, both in Blitzstein and in Weill, especially the latter in "Berlin im Licht", on which she gave a moving introductory speech.
The entire concert was actually built around promoting a new 470-page book by Pamela Katz, (seen below), published by Nan A. Talese-Doubleday, called The Partnership: Brecht, Weill, Three Women, and Germany on the Brink.  And no wonder.  On p. 396, the author acknowledges "the talented and erudite composer John Musto and gifted soprano Amy Burton, for their patient explanations of musical language and history, and their ability, as consummate performers, to offer me a greater understanding of life on the stage and in the wings."
The book's other acknowledgments include Steven Blier, William Bolcom, Tony Kushner, several German scholars, and Kurt Weill Foundation President Kim Kowalke, "for our many thoughtful conversations."  No surprise then that the KWF has treated this book (which abounds in embarrassing expressions like "romantic Handelian operas," "a timpani," "Symphony in one sentence"–a mistranslation of the word "Satz" which here means "movement"—and misattribution of the role of Polly to Bea Arthur, who played Lucy) with kid gloves, assigning a review in their most recent issue to the British translator Jeremy Sams, who gently chides the author for her screenwriter's gushiness, but has kind words for her storytelling ability.
In contrast to former Brecht Society President John Fuegi, whose most recent scholarship depicts Brecht (at left) as a monster worse than Stalin or even Hitler, Katz adopts a more sympathetic, if sometimes patronizing, psychologizing tone, trying to show how the numerous women who collaborated with Brecht (on fruits of their pens, and their wombs) for the most part knew what they were getting into, and tolerated his Don Juan/Mack the Knife lifestyle.  A line was drawn though, apparently, when Brecht suggested that Weill's wife Lenya and coloratura soprano Irene Eden come onstage nude in their first appearance as whores of Mahagonny in the first Brecht-Weill collaboration of 1927.  Weill objected, as did "the municipal authorities of Baden-Baden," though nudity has recently been part of the costuming of several Belgian and Austrian productions of both Mahagonny and Threepenny Opera (https://vimeo.com/29418101).  And Brecht had insisted on their doing much of the writing at the French Riviera town of Le Levandou, which was somewhat notorious for its nearby nude beaches, though that's not mentioned by Katz,  She does mention the contemporaneous "Hans Albers's nude models in the comic opera Take Off Your Clothes," but nudity for principals in opera, as opposed to choristers or ballet, is a continuing source of controversy even today.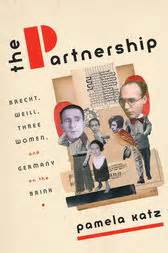 The story of how Threepenny became a triumph snatched from the jaws of near-disaster in 1928 is quite well told—especially the last-minute creation of the Moritat of Mackie Messer, which became the piece most remembered from the show.   How Brecht ended up with the lion's share of royalties (5/8, to only 1/4 for Weill and 1/8 for Elizabeth Hauptmann, who had translated from the English John Gay's Beggars' Opera, on which the work was based) is also well explained:  Weill apparently considered his participation in the work to be less significant than the full-scale opera Mahagonny, in which he as composer would get the larger share.
Less well told is how the genius of Marc Blitzstein was what brought Threepenny, in his translation and adaptation, its phenomenal success in the English-speaking world a quarter of a century later, after Weill's death.  It continues to be a sore point that Blitzstein's work, now represented administratively by the KWF, is not better known than it is, particularly the aforementioned Idiots First and Sacco and Vanzetti, but also his other Brecht translations, especially Mother Courage and Mahagonny.  Weill had rejected Blitzstein's offer to translate his Eternal Road, just as he had rejected the efforts of John Houseman and Virgil Thomson to stage Mahagonny, calling them "those pansies." (See my June 1997 article in Aufbau – http://ljlehrman.artists-in-residence.com/articles/aufbau38.html).  Only after Weill's death, with the support of Lenya (whose eyes lit up when Blitzstein's name was mentioned in a Dec. 1970 interview I did with her), did Blitzstein successfully complete those Brecht translations.  And they are complete.  All that Courage needs is a production with a star like Estelle Parsons (who'd love to do it), and all that Mahagonny needs is some editing.
For Blitzstein's centennial, ten years ago, Blitzstein's elder nephew, Stephen Davis, commissioned the editing and completion of his 1934 Discourse for clarinet, cello and piano. The world premiere by Innovox (David Valbuena, Andrew Borkowski, and Dorothy Chan) of this spiky work finally arrived April 1, 2015 at a Long Island Composers Alliance concert, managed by Joel Mandelbaum, at Queens College.  It is now posted online at http://courtstreetmusic.homestead.com/Discourse-by-Marc-Blitzstein.html.
Another Blitzstein world premiere, the last two of his Eleven Circular Canons, written in 1927 while studying with Nadia Boulanger, on texts translated from the Japanese of Lady Murasaki (973-1025?), will be sung by The Metropolitan Philharmonic Chorus in "Songs of Conscience" concerts, Sundays at 2:30pm, Oct. 18 at Long Island's Freeport Memorial Library and Nov. 1 at Bryant Library in Roslyn.
Leonard Lehrman (http://ljlehrman.artists-in-residence.com), the composer of 220 works, to date, is Founder/Director of The Metropolitan Philharmonic Chorus (since 1988), Editor of The Marc Blitzstein Songbook (v.1-3, Boosey & Hawkes, 1999-2003), author of Marc Blitzstein: A Bio-Bibliography (Praeger, 2005), and adaptor/completor of 20 works by Marc Blitzstein.  A review of his opera Hannah appeared at http://soundwordsight.com/?p=1384>. His article on the centennials of Robert Palmer and David Diamond, and their significance for Blitzstein's life and work, appeared at http://soundwordsight.com/?p=1537.
---
Comments Off

on "I've Got the Tune?" No, A Brecht-Weill Blitz Concert/Book Review by Leonard Lehrman
Sorry, comments are closed.