Comments Off

on Dell'Arte Opera Ensemble's Beaumarchais Festival – Reviewed by Leonard Lehrman
September 12, 2015 by Admin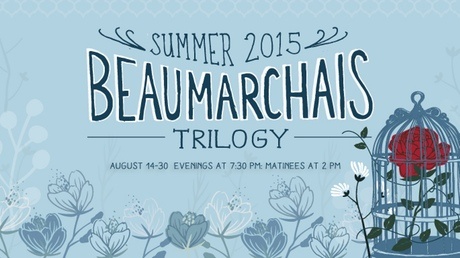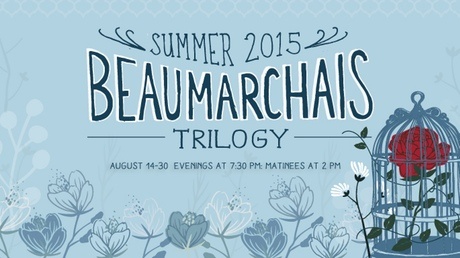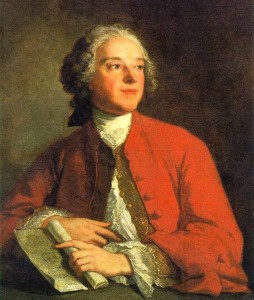 On August 25, 2015, Desiree Alejandro directed a lovely concert of the Dell'Arte Opera Ensemble at  the Baruch Performing Arts Center, entitled Les belles et les beaux, with excerpts from various works featuring characters in Pierre-Augustin Caron de Beaumarchais' (at left) Figaro trilogy of plays, including dialogue in English, setting up musical scenes in the composers' original language.
Most intriguing was the little known Swedish opera, Den Brottslige Moderne, by Inger Wikstrom.  Familiar arias and ensembles from Rossini's Barbiere di Siviglia, and arias for Marcellina and Basilio often cut from Mozart's Nozze di Figaro, were balanced by arch excerpts from Darius Milhaud's La Mère Coupable, based on the much less familiar third Beaumarchais play. An aria and two ensembles from John Corigliano's Ghosts of Versailles reminded us what a great, lyrical opera of our own time that is.  But the revelation of the evening was the great beauty of three solo excerpts from an opera rarely seen, only heard about: Jules Massenet's Cherubin, in particular the aria by a character called Nina, sung absolutely gorgeously by Catherine Malfitano student Alessandra Altieri.
Altieri (seen at right) was also heard to advantage as Rosina, the only female in a cast of seven that performed the "other" Barber of Seville, the late 18th-century one by Giovanni Paisiello that preceded Rossini's by a generation, only to be displaced by it in the 19th century.  I had heard one ensemble from this opera, the sneezing scene, at a Goldovsky opera workshop 40 years ago, and had always been curious to see the entire work.  Unfortunately neither the scene nor the entire opera proved very convincing in this rendition, with the exception of Altieri's well-rendered solo arias.
The company also mounted a 1980 work in English by Hiram Titus & Barbara Field entitled Rosina, which contained some very lyrical, sweeping, romantic music, that, even at its best, only underlined parallels with the Strauss-Hoffmansthal Rosenkavalier, to the disadvantage of the later work.  As for the company's production of Mozart's Figaro, we took a pass, recalling Leporello's line, as Figaro's Act I aria is reprised in the final scene of Don Giovanni:
"That's a song I have heard but too often."
Visit Dell'Arte Opera Ensemble at http://dellarteopera.org/season.php5?p=64.
Leonard Lehrman's Metropolitan Philharmonic Chorus will be heard in Songs of Conscience on October 18 at Long Island's Freeport Memorial Library and November 1 at Bryant Library in Roslyn, as well in the first performance of Alexander Dargomyzhsky's opera Rusalka in the English translation by him and his mother, Emily R. Lehrman (1923-2015), performed for the first time anywhere, in her memory, at Queens College, November 22, with soloists Helene Williams, Gregory Mercer, David Anchel, Perri Sussman, Kathryn Wieckhorst, and Jackie Bakewell.
Category Sound | Tags:
---
Comments Off

on Dell'Arte Opera Ensemble's Beaumarchais Festival – Reviewed by Leonard Lehrman
Sorry, comments are closed.