Comments Off

on The Winners of the Ibla Grand Prize International Music Competition – Weill Recital Hall at Carnegie Hall, May 11, 2016
May 17, 2016 by Admin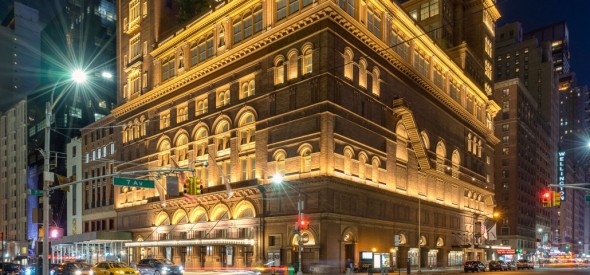 Honestly, Ibla Grand Prize concerts are a pleasure. Full of world-class musicians and musicianship and the inimitable presence of the competition's founder, director and host for the event, Dr. Salvatore Moltisanti, this marvelous competition and its annual New York international showcase presentations of musical talent at the highest level have kept us surprised and delighted for many years – 25 to be exact.
25 years in the magical and beautiful Sicilian Baroque city of Ragusa-Ibla, from which the competition gets its name.
25 years of discovering and presenting an astonishingly high level of talent – musicians from around the world who gather there in Sicily each summer to show how good they are by performing a variety of music in many, many different styles.
25 years of performers ranging from accordionists to whistlers, with saxophone quartets, electronic music composers, singers of every description, string and wind players, lots of pianists and many, many others along the way.
25 years of believing that the core principle of competition is not judging musicians against other musicians, but rather judged against the highest professional standards of the profession.
And on May 11, 2016, celebrating this all with a concert at New York City's Weill Recital Hall at Carnegie Hall.
This year's concert opened with a rather melancholy surprise, a very young pianist named Rohan playing a charming Happy Birthday in honor of the 90th birthday of the recently passed Ibla Foundation Chairwoman Baronessa Mariuccia Zerilli-Marimo, Her spirit seemed to be present throughout the evening.
Leading off was Chinese pianist Jiaxi Jessica Sun, a lovely young lady in a white dress who presented a charming Czerny, which moved right along. She's off to a good start. The fingering and articulation will be better as she grows, but for someone so young, she really seems to "get" this music. Her Tchaikovsky was also charming, again with a good sense of shaping the music. She obviously has good training, but also shows good execution of that education.
Following her was Italian pianist Marco Pomposelli, who gave us two Danzas from Argentinean composer Alberto Ginastera, whose centenary is currently being celebrated. This young man in a very red shirt gave us dances that need a bit more life. He's got the notes and a frequently nice sense of dynamics, but not yet the sense of movement inherent in how this dense music is composed,  He still has plenty of room to grow into this ambitious music, although at times he need to dial the enthusiasm back a bit.
Next up was American pianist Quinlan Facey, performing Prokofiev's Diabolique. His performance had quite a sense of forward motion, moving along much like a silent movie chase scene. I must say, he managed many of the intricacies of this not-easy music pretty well. He'll get more and more of it as he grows as a musician.
18-year old American pianist Ian Miller was next with an interesting take on Elton John's Funeral for a Friend. Finally, something adagio, at least at first. Nice technique and a big sound, with a nicely built musical architecture, drama, Eltonian touches and rock roots. Strong middle section that morphed into a sort of triumphal march and an ending that goes on a bit too long. Altogether, a nice performance.
Then came the Polish accordion duo of Lukasz Brzezina and Bartosz Kolsut. They are a good-looking and well-coordinated pair, both musically and sartorially, that offered a finely played Piazzolla Libertango. As is usual with these Polish accordion duos (and there's a number of them), they ripped right through the material with precision, style and a few touches of their own. Maybe it was too fast for tango dancers, but this is the concert stage, and for that it was just too cool. Wonderful performance and a great audience reaction, well deserved.
Next up was Italian pianist Alessandro Marino with a solo piano Rhapsody in Blue. He needs to spend a lot more time with this music, and also listening to some classic performances. Although strong in some passages, he also missed notes, sacrificed a bit of articulation and flubbed fingerings. However, he kept things moving along and even tried for his own stylistic points – some of which hit, some of which missed. The famous theme was well done, but the final pages had some issues. However, he's still young and has something to build on – provided he continues to listen and learn.
Pianist/composer David Cieri from the U.S. was next, with more challenging music, this time his own untitled composition. This pianist cat in a hat, with his ensemble of bandoneon, violin, bass, percussion and poet, presented minimalist music with poetry with echoes of the Middle East, Terry Riley and poetry slams. It's interesting and often intense music that draws you in with a welcome focus and brevity.
Following Mr. Cieri was Chinese pianist Xian Lu (lovely in a red dress), who presented a Liszt take on themes from Rigoletto. It has lots of notes, but I must say she essayed the music with style, wit and the ability to make Liszt's sometimes over-ornamentation plausible. She is to be commended for good fingers and toes, which she made use of on the soft pedal.
Next came Korean soprano Jeoung Yun Son, who presented arias from Sicilian composer Pietro Floridia and Donizetti. At first, she was quite serious in her stage demeanor as she presented the brief but lovely Floridia Maruzza. The Lucia di Lammermoor offering was also nicely done. She has a small-scaled but lovely voice that is nicely supported, flexible, secure throughout her range, with no evidence of pushing. Her accompanist Soo Hyun Park was equally fine and gave the singer excellent support. The two of them were, by the way, quite a visual treat in their blue and pink gowns. The audience truly appreciated them – and at the end, the soprano smiled.
Following this was one of the highlights of the evening, Polish pianist Jakub Czerski. He played Prokofiev – and very good Prokofiev it was, right to the point. His Prokofiev is thoughtful and well presented. It actually dances at times, then right back to the fast fingers and the express-train-going-through-the-local-stops ideas. His playing has great life to it. Clean, articulate and very well done.
The Polish duo of violinist Celina Kotz and pianist Jakub Czerki was next with Franz Waxman's unfortunate Carmen Fantasy. I'm sorry, but the piece is dreadful, and not a good choice for violin players. It has too many notes, and allows for far too many mistakes. I'm also sorry to say that Ms. Kotz made a number of them, including slurred notes, imprecise passages and dodgy intonation. It's certainly flashy, and the audience seemed to enjoy it, but there are many better Carmen showpieces out there. To be fair to Ms. Kotz, she has the technique, but she needs more work if she is to present this as it should be.
Following this was Poland's Marcin Parys with the portentous Franz Liszt rendered a bit less so by the pianist's lighter touch. This was deftly presented with a lot of charm and grace. His fingering got a little off-base near the end, owing to too fast a tempo, but overall, all the parts of this rhapsodic quilt hung together for the duration. Enthusiastic audience reaction.
Then came another of the highlights of the evening, Italian pianist Pietro Beltrani's presentation of the late, great Michel Petrucciani's Looking Up. This was a lovely surprise – stylish, individualistic Petrucciani. It lost a bit of the jazz, but added new classical touches, with echoes of players like Keith Jarrett and Brad Mehldau, and his own compositional ideas. He's a fine player and the audience loved it.
This was followed by the Polish duo of violinist Karolina Mikolajczyk and accordionist Iwo Jedynecki. An interesting arrangement of one of Bartok's Romanian Folk Dances led things off with fine musicality and style. This led in to Rodion Shchedrin's Imitating Albeniz. Again, more fine music making, from two fine, well-matched players, with more ace-level accordion playing and more love from the audience.
As always, I need to mention that throughout the evening, Dr. Moltisanti was an exceptionally genial, informative and eloquent host. It once more confirmed my belief in his genius as a musician, teacher and advocate for musicians from around the world.
Finally, to end things, Georgian pianist Tamara Licheli performed Ravel's La Valse. She is a lovely lady with a metric ton of technique and keyboard mastery. This was lovely and more darkly colored Ravel – flowing, mysterious and quite compelling. I would wish for a bit more poetry at times, but I find her ideas consistent with the often stated (but not necessarily composer endorsed) opinion that the piece was about the decay of European civilization. Great playing and terrific audience reaction.
As always, this was a strong showing of the talent that is part of the Ibla Grand Prize.
And, of course, this being an Ibla event, one more surprise—Ibla Board member Rebecca Madsen was gifted with another chorus of Happy Birthday with several soloists, and Dr. Moltisanti ended by reminding us once again of the ongoing spiritual presence of Baronessa Mariuccia Zerilli-Marimo and how much she will be missed during the Ibla Grand Prize's next 25 years.
Jeffrey James
Editor, International Composer
http://www.jamesarts.com/internationalcomposer/
Editor, SoundWordSight.com
May 14, 2016
Category Sound | Tags:
---
Comments Off

on The Winners of the Ibla Grand Prize International Music Competition – Weill Recital Hall at Carnegie Hall, May 11, 2016
Sorry, comments are closed.