Comments Off

on About Maestro Harold Rosenbaum and the Early Days of The Canticum Novum Singers
September 1, 2020 by Admin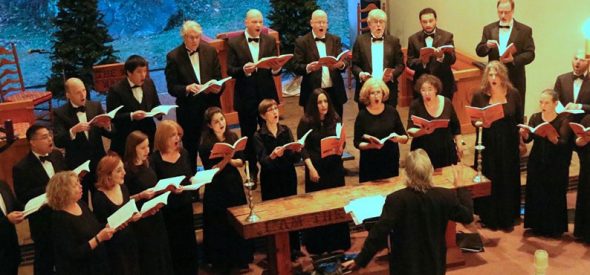 by Maestro Harold Rosenbaum, Conductor and Artistic Director of The New York Virtuoso Singers, The Canticum Novum Singers and their parent organization Canticorum Virtuosi, Inc.

As a 2nd year graduate student and the assistant conductor of the Queens College choir in 1973, I realized that soon I would have no "instrument" of my own. It was then that I decided to start my own choir. With great determination I went to work calling all of the best singers I knew from my school days, telling them of my plans to start a choir, and  a couple of dozen people expressed enthusiasm.  I told them we would rehearse in Flushing, somewhere within a half-mile radius of the subway, so that people taking that form of public transportation  could then walk there. I made the rounds, knocking on doors of church parish houses and other institutions, both sacred and secular, but without success. Perhaps my appearance was a factor; in those days I sported  a rather long ponytail and a scruffy goatee, so that the very sight of me probably turned off the officials at these institutions. Although in many ways I was anti-establishment,  I never once tried recreational drugs (I still haven't and never will). I used to tell people Bach was my high if they asked why I would not join them in their pastime.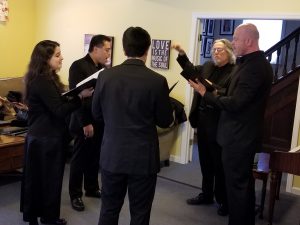 Coupled with the fact that I was having no luck finding a rehearsal space was the realization that the quality of the chorus I had assembled was actually not up to the standard I envisioned, Realizing that I would have to move my field of operations to Manhattan, I told each person I had already accepted of my plans. Thankfully, no one wanted to make weekly treks that far anyway! I took paid advertisements in newspapers, created and hung fliers in stores, on telephone booths, and at bus stops, and further spread the word as best I could.  It worked. After assembling twelve very good experienced choristers, three in each section, we were off and running.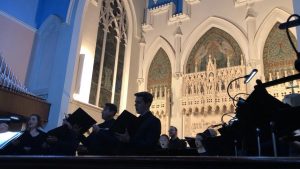 From the outset my goal was to perform only early music. It was the music I knew best, and there certainly are enough gems from the Renaissance period alone to sustain an ensemble for its lifetime. Coincidentally, another group devoted solely to Renaissance music, The Renaissance Street Singers was being formed at this time, something I learned later.  I had an interesting array of singers in my group. One of my three altos was blind; she had all the music we were performing put into Braille, at which I marveled. One of my tenors was an older man with light green, rather effervescent glass frames. One of my basses had just returned from a national singing tour with comedian Flip Wilson. Another was a student from the Juilliard School with a gorgeous voice. This assemblage of singers had one thing in common:  They could all read music quite well and were very musical.  I had been very selective accepting singers; only one in about 20 passed the audition. I wanted the group to stand out and be noticed from the start, and I believe that I accomplished that goal handily.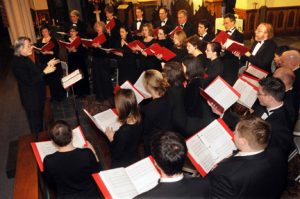 From the outset the ensemble gelled and made steady progress despite expected hurdles I began encountering. One evening, twenty minutes before the rehearsal was scheduled to conclude, one of my tenors leapt to his feet, accusing all of us of being "planted here by my psychiatrist in California," among other rants. We allowed him to hold us captive because of an equal dosage of courtesy and fear, until he became calm, at which point I and his roommate, another tenor in the choir, escorted him home.  On that trek by foot and by subway, he would occasionally throw down his music with an accompanying brief tirade. Arriving  at his Queens home, he was quite calm, and his roommate retired for the evening.  As he began escorting me out the door, he locked it from the inside, and held a knife up to my face, declaring in a rather menacing fashion that if his roommate did such and such to him again, the results would not be pretty. I told him I understood completely and was freed to make my way home. Needless to say, I found a replacement tenor for the choir. Three weeks before the concert, one of my three altos declared that she wanted to sing soprano, and if I did not allow it, she would quit. I used all my persuasive abilities to convince her to stick it out at least until after our first concert. I sensed then that some of these experienced singers, all older than me, saw a talented but very inexperienced leader whom they could boss around or at least try to manipulate  in one way or another. But I also had the feeling that they were enjoying making music on a high level, perhaps even higher than what they were accustomed to. One week later one of my sopranos quit, and I was devastated. I was fortunate enough to find a replacement, someone who read music very well. She seemed to be enjoying her first  rehearsal there when suddenly she walked out, taking her belongings with her. I surmised that she hated being there and had left for good, which rendered me mentally incapable of proceeding. Telling everybody to take a break. I paced the floors, wondering how I could, and if I should, continue trying to make this venture work. I had had enough tension and was ready to throw in the towel. I turned and walked gloomily back into the room, ready to disband the group. The entire ensemble, including the soprano who had walked out, was awaiting  my arrival.  In the presence of all present, I told the soprano that I thought she disliked the group and had quit, and she told me with a smile that she was loving it, and just needed to use the facility. From then on there was no stopping me and my music making..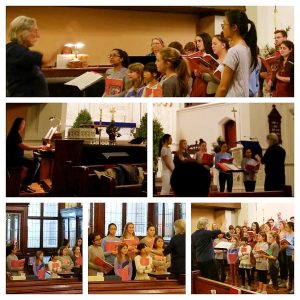 I wanted to make a big splash with the inaugural Canticum Novum Singers concert and chose a featured work that is massive in scope and one which defies comprehension.  How could a composer over five hundred years ago write a 35-minute mass consisting of a double canon throughout? Not just that, but the canons begin at the unison and proceeds by step over the course of the entire piece up to the interval of an octave. Two hundred years later J.S. Bach tried his hand at it in the Goldberg Variations (succeeding nobly of course), most likely unaware of Ockeghem's music. The work we performed was Missa Prolationum by Johannes Ockeghem, teacher of Josquin Des Prez, a lucky man if there ever was one.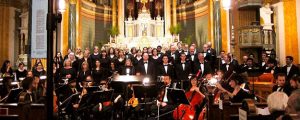 To supplement the choir throughout the mass, I hired nine well-known instrumentalists: The New York Cornett and Sackbut Ensemble, The New York Consort of Viols, and Lucy Cross, lutenist. CNS immediately began receiving excellent reviews in the New York Times and other important publications. I believe much of this was due to the very select group of singers I accepted after rigorous auditions.  Having a wonderful sounding group from the start was the key to attract other fine singers (which continues to this day). After that concert, which drew three hundred fifty people to the  Church of the Heavenly Rest on the Upper East Side, I presented  only a cappella concerts for a few seasons.  Then I began to get the itch to expand the repertoire.  Although my first board of directors was generally very supportive, they freaked out when I said I wanted to conduct J.S. Bach's St. John Passion. This ambitious venture would require us to rent a hall, and to pay for an orchestra and soloists. However, I needed to branch out and to explore a repertoire that most serious conductors yearn to do. It would be one of many hundreds of concerts and projects over the decades which I felt compelled to mount. A lifelong process of exploring, studying, and presenting great music had hatched within me, and there was no stopping me now. I was persistent and persuasive enough with my board for them to take a giant leap of faith to sanction and support it. Over the decades CNS has alternated between small- and large-scale productions and has survived to tell the tale.
Visit The Canticum Novum Singers at https://www.canticumnovum.org/ and Maestro Harold Rosenbaum at https://www.haroldrosenbaum.com/.
Category Sight, Sound, Word | Tags:
---
Comments Off

on About Maestro Harold Rosenbaum and the Early Days of The Canticum Novum Singers
Sorry, comments are closed.