Comments Off

on Gradus – Music by Composer David Claman
December 20, 2020 by Admin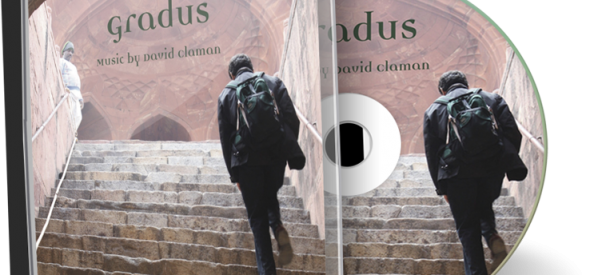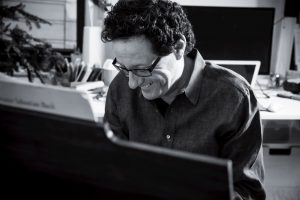 David Claman (https://davidclaman.com/) is an Associate Professor at Lehman College-CUNY, where he teaches music theory and composition. He's held residencies at the MacDowell Colony and the Bellagio Center in Italy. He has received grants from The Fromm Foundation, The American Institute of Indian Studies, and a Fulbright-Nehru Fellowship to India, where he was a visiting professor at Delhi University. David has been commissioned by The American Composers Forum, The Cygnus Ensemble, flutist Tara Helen O'Connor, and the Creviston Fader saxophone/guitar duo, among others.
David Claman holds a bachelor's degree from Wesleyan University in the music of South India, a master's degree in theory and composition from The University of Colorado, and a Ph.D. in composition from Princeton.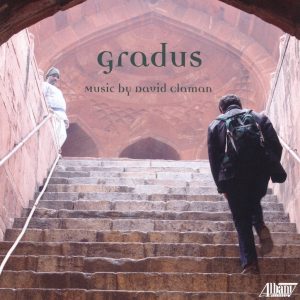 This variety of international and academic experiences is helpful in explaining the wide and wonderful variety of compositions on his superbly recorded Albany Records CD Gradus (Troy 1873).
I assume that this experience has also brought with it many hours of listening to other composer's works and keeping abreast of trends in new music. This is most immediately obvious in the collection's 2nd track, The Next Number. Works by Nico Muhly (Mothertongue) and Paul Lansky (Interesting Numbers) come to mind, and Claman fits neatly with this type of composition.
Mandeville Pentacle is again reminiscent of Muhly and other composers who have created electroacoustic works featuring choral speaking rather than singing. Current choral ensembles such as C4 Composer/Conductor Collective and Roomful of Teeth have also encouraged this, and the four synthesized voices that recorded this piece perform its text from The Travels of Sir John Mandeville marvelously.
Loomings, based on a brief passage from Moby Dick, is for solo voice and the electronically generated sounds of New York harbor, and Brit uses words from the same source, this time spoken by the composer.
Art songs never go out of fashion, and Claman has given us two gems in From a Dream and Rescue the Dead, both from poems by David Ignatow, and both beautifully performed by soprano Elizabeth Farnum and pianist John McDonald.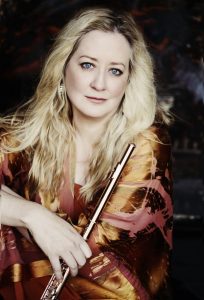 Another more recent trend in chamber music has been creating works for once-unlikely combinations of instruments. Variations on Amba Kamakshi brings together alto flutist Tara Helen O'Connor with percussionist Ian Rosenbaum, who performs on vibes, cymbal, and drum. The composer apparently brought Indian and Irish influences to the composition, and the synthesis and performances are lovely.
Like art songs, electronica has never left us, and only seems to grow stronger and more varied. An excerpt from Claman's Piece of Work, generated by laptop computer, seems to be an homage to midnight in the clock shop.
Compositions for saxophone quartet are one of chamber music's sturdiest contemporary forms, but Liberties Taken is set apart from the usual run by its very effective use of South Indian rhythms. It's a transcription of a piece from turn-of-the-20th-century composer Tiruvottiyur Tayaggaya, and one can hear echoes of the traditional instruments that the piece must have been written for. However, the New Thread Saxophone Quartet perform it beautifully and make it fresh and new.
Avaley Taan for voices, guitar, mandolin, violin, and cello, and Like This, for violin and cello, both head back a few centuries for influence, but Avaley Taan has a lightness and grace and Like This a strong and compelling sense of forward motion that make them very much of our time.
Loose Canons II and Loose Canons II-IV are written for three guitars (played by Steven Mackey, Matthew Wuolle, and Mark Zaki) with sustain devices. While I appreciate the chorale-like quality of much of the writing, and the obvious multicultural and multi-genre sounds therein, I didn't appreciate these works as much as the others in the collection.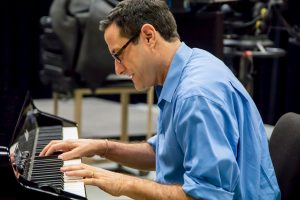 On balance, however, not connecting with only two of the thirteen works in this wonderful collection is pretty good. I would strongly recommend Gradus, Music by David Claman, to anyone who cares about new musics in all its contemporary forms.
More of his recorded works can be found on the Innova and Bridge labels.
Review by James Farmingdale.
---
Comments Off

on Gradus – Music by Composer David Claman
Sorry, comments are closed.