Comments Off

on Ending the Year Francophilically by Leonard Lehrman
December 22, 2021 by Admin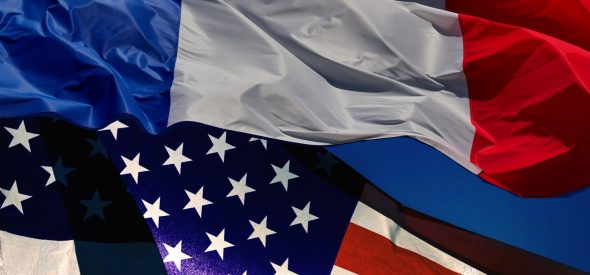 Boulanger, Chausson, Gounod, Rosner, Viardot, NYFOS, Thomson, Feigin, Naumoff, Clearfield
Catching up with, and wrapping up, the second half of 2021, so many events and new recordings seem linked by a common thread.  As Hal Holbrook used to quote Mark Twain, somewhat contemptuously: "It's not American.  It's not English.  It's French!"   There are lots of versions of that quote on the internet, none exactly like the one I remember hearing, though all of them pejorative.  But I don't mean to be pejorative here at all.  For the French influence on music, particularly American music, has been enormous, and often quite wonderful.
In the beginning, so to speak, of Franco-American musical relations, there was Nadia Boulanger (1877-1979), who taught more American composers than anyone in the history of music – over 700, in a career that began at age 10 in the class of Gabriel Fauré (1845-1924), where she learned by heart not only J.S. Bach's Well-Tempered Clavier but all the Beethoven Sonatas, not to mention Chopin, pieces of whose she would regularly sprinkle into her discussions of Bach, to demonstrate tonal similarities.  The Ecole Américaine (aka Conservatoire Américain) at Fontainebleau, just south of Paris, a summer music school, where she taught from its founding until her death 58 years later, celebrated its 100th years in June, 2021.  Various commemorations this year included:
a portion of our Court Street Music 2021 Zoom Chamber Music Recital #6, devoted to Students & Teachers, on June 1, posted here: http://tinyurl.com/1Juno2021, included piano trio slow movements by the four first-prize winners of the 1969 Fontainebleau Concours de Composition:
Robert X. Rodriguez (b. 1946) http://youtu.be/WJ_C3WcW3aU, Robert Shafer (also b. 1946) http://youtu.be/HbLsCE2lBhg, Jay Gottlieb (b. 1948) http://youtu.be/MAFym-1n1PQ, and yours truly (b. 1949), http://youtu.be/-rQq6kwm5YA, along with one by Hugh Robertson (b. 1940) https://youtu.be/wS-ZlswGGuI and my satiric motet on words by Claude Debussy titled Monsieur Croche  à  la Boulangerie http://youtu.be/VPTXzSvAvxc;
an online concert produced June 27 in California, viewable at http://youtu.be/OaBtUpfjAh8, by her student David Conte (b. 1955), featuring music by him, Malcolm Singer (b. 1953), Martha Helen Schmidt (b. 1956), Laura Karpman (b. 1959), Philip Lasser (b. 1963), Robert X. Rodriguez (from whom I learned about the event), and Emile Naumoff (b. 1962), about whom more presently.
and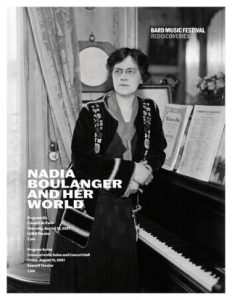 3) the Bard College Summer Festival, Nadia Boulanger and Her World, postponed from last year, featuring the US staged premiere in four July performances of Le Roi Arthus (King Arthur), Ernest Chausson (1855-1899)'s only opera, with baritone Norman Garrett in the title role.  We were able to catch it streaming and were most favorably impressed by the love music for Lancelot and Guinevere, sung luminously by tenor Matthew White and mezzo-soprano Sasha Cooke.  The nine weekend concerts of music in August by Boulanger students all unfortunately conflicted with prior engagements; we'd especially liked to have heard the music of Marc Blitzstein (which I've edited) and Karel Husa (my teacher at Cornell, a pupil of Honegger who did not study with Mademoiselle, but for whom she had great respect).
Another 19th century French opera receiving a world premiere on recording, in its restored 5-act version, from 1863, is Charles Gounod (1818-1893)'s La Reine de Saba (The Queen of Sheba), with the Odyssey Opera and Chorus, on their own label, conducted by the redoubtable Gil Rose.  The subject of the opera, based on 1 Kings 10:13, with an added love triangle, was also used (as was the title) in a German opera a decade later (also with an added love triangle, though a different one) by the Hungarian-born Viennese Jewish composer Karl Goldmark (1830-1915), the uncle of composer Rubin Goldmark (1872-1936), an early teacher of Aaron Copland (who became Boulanger's most famous pupil, and promoter).  The new album is beautifully produced, and the singing and playing are for the most part excellent, especially Kara Shay Thomson in the title role and Dominick Chenes as her adoring architect, Adoniram.  I wish I could recommend the 3-CD set wholeheartedly, but unfortunately the bass singing "King Soliman" produces some of the ugliest sounds I have ever heard in an opera recording, so I can't, except for excerpts.  (Odyssey Opera has better luck with Gil Rose and his Boston Modern Opera Project in another new opera recording, of The Chronicle of Nine: The Tragedy of Queen Jane by my late friend, composer Arnold Rosner (1945-2013).  I included Rosner's Bontche the Silent in my first Jewish Opera Lecture of 2014, but this work is very different – much more Anglican than Jewish, recalling Britten's Gloriana and other pageant-like treatments of royals. David Salsbery Fry has a minor role in the Gounod, and major one in the Rosner.  And again the title role, this time by Megan Pachecano, is beautifully and affectingly sung.)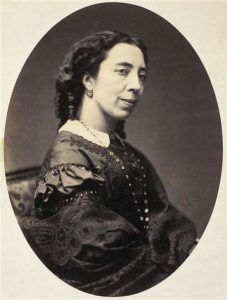 A much more salubrious treatment was given (by City Lyric Opera, in 2 performances, Dec. 16 & 17; a third, Dec. 18 was unfortunately cancelled due to Covid) at the Mezzanine Theater at A.R.T./New York – 502 W 53rd St.) to another even less known 19th century French comic opera – almost an operetta, only a little over an hour long, in a style reminiscent of the semi-serious Offenbach, Cendrillon (Cinderella) by Pauline Viardot (née Garcia – seen at left)(1821-1910). This was the last of her five salon operas, written primarily for her students, and completed when she was 83(!).  The first three were to libretti by her lover (for the last nine years of his life), the cosmopolitan Russian author, Ivan Turgeniev (1818-1883)(see Turgeniev's Letters, edited & translated by Edgar H. Lehrman [full disclosure: my uncle], Knopf, 1961), the last two to her own words.  The intriguing titles alone whet the appetite for acquaintance with them: Too Many Women, The Ogre, The Last Magician and The Tale of Fairies.  And although best known more as a singer and teacher, none other than Franz Liszt declared her the first female composer of "genius."  An apt assignment, then, for this company.
A haunting French folk song, also used by Rossini in his Cinderella opera, La Cenerentola (1817), which was actually the first opera I ever saw – in Sarasota, in 1961! – begins and is later reprised by the opera's title character, movingly sung by Shaina Martinez, in a performance reminiscent of the homely but deeply emotional Fosca in Stephen Sondheim's Passion. Delightfully playful and well-sung portrayals of the two stepsisters are given by Allie Altieri and Linda Collazo, while coloratura Yejin Lee steals the show vocally as "La Fée," also known as the Fairy Godmother, and in this version as the ghost of Marie (called Cendrillon)'s late mother.  Joseph Parrish is the jovial, racially cross-cast (African American) father, Le Baron de Pictordu. Nicholas Huff and Corey Don charm as Le Prince Charmant and his chamberlain.  The orchestration, for woodwind quintet, string quintet, harp, and 2 percussionists, by (an uncredited) Charles Effler, is felicitous, with synthesist Dmitri Glivinsky (not listed among the players) playing both percussion parts and augmenting the single strings as continuo.  Michelle Rofrano conducts this proudly women-led company with aplomb.  The skilled, inventive stage director is the presumably transgendered Rose Freeman, who uses the self-referring pronoun "zie," a good alternative to the ungrammatical "they." The work of Quentin Bruno, credited as "Translator/librettist," is presumably what one sees on the screen in English, and hears sung (in French) and spoken (in English).  There are of course advantages to having dialogue in the audience's language and the original language sung as set by the composer.  But generally speaking (as a professional translator), productions tend to do better monolingually.  A case in point is Chabrier's one-act comic opera L'éducation manquée (An Incomplete Education), which I translated into English for Bronx Opera in 2006, and which has just this year, at last, been posted on YouTube, with subtitles, here: http://youtu.be/ciYNmaeUWlg.

Viardot's Cendrillon was City Lyric Opera's first live production since 2019, and the first opera I'd attended since then as well.  (Unfortunately the Met declined my request for press tickets to any of their three new operas I'd offered to review this season.)  The first live concert I've attended since the pandemic was a gem, also on French themes, presented on Aug. 1, 2021, at Poquatuck Hall in Orient, NY, by Oysterponds Community Activities and New York Festival of Song (NYFoS), with Steven Blier accompanying soprano Nicoletta Berry and baritone Samuel Kidd, in a program billed as "Le Tour de France."  Relatively little known songs by Francis Poulenc, Joseph Canteloube, Michel LeGrand, and the previously completely unknown (to me) Charles Trénet were presented with love and pizzazz, and the usual full texts, translations, and extensive notes – mostly solos, with one un-French duet (from Don Giovanni) as encore.  The venue is quite a long drive from almost anywhere, but worth experiencing the hall's excellent acoustics we enjoyed performing in back on April 21, 2018 for the centennial celebration of composer J. Willard Roosevelt, who lived in Orient for most of his 90 years.
(See http://www.youtube.com/playlist?list=PLmhHI8m9j-Xt3T9fjZueGpR4D2_VrRFp5.)
Returning to recent recordings of French- or at least Boulanger-influenced composers, one must put Virgil Thomson (1896-1989) [not Thompson, as in Randall (1899-1984), another Boulanger student with whom he's often confused!] at the top of the list.  Second in renown only to Aaron Copland (1900-1990) among N.B.'s earliest pupils, Thomson is credited with the legendary statement that every U.S. town of any significance had at least three things: a gas station, a five-and-dime, and a Boulanger student.  Only one of those things is still true today, and maybe soon it won't be either, with the advent of electric cars.  But the reverence for tradition, discipline, beauty, and productivity remain a legacy of all she taught and inspired.  Recordings of Thomson's Portraits, Self-Portraits and Songs, co-produced in 1990-94 on Northeastern by Anthony Tommasini (then Music Critic of the Boston Globe, now of the New York Times) was reissued on an Everbest 2-CD set in 2020, and is a treasure chest of delights, climaxing in the nearly 17-minute long 1927 Gertrude Stein setting, Capitals Capitals that precedes and competes with Ernst Toch's 1930 Geographical Fugue for most inventive work of its kind – for spoken chorus.  My favorite among the chamber music pieces is the 1930 Sonata for Violin & Piano, a copy of which was among the music found on the piano of Marc Blitzstein after his death in 1964, and which his Estate generously gifted me. Daniel Hyman and I performed it on our Sep. 21, 2021 Zoom concert http://youtu.be/FVj8uc_wYtM, but only the first 3 of the 4 movements, as I believe the final cadence is more convincing that way, and with Thomson, who was after all (like Charles Dickens) paid by the word, often less is more, so to speak. (I learned that in 1990, when Richard Flusser and the After Dinner Opera Company had me abridge and conduct – from the piano – Thomson's final opera, Lord Byron, which I still believe is better in the truncated than in the full version!)
Two more Boulanger students are given full CD treatment by Toccata Classics: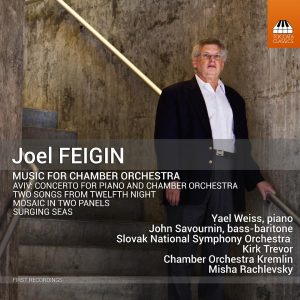 Joel Feigin (b. 1951), who grew up on Long Island and was for a short time a member of the Long Island Composers Alliance during my presidency thereof (1991-98).  His late agent Rosalie Calabrese was indefatigable in promoting him – she was memorialized by him and others at an ACA concert Oct. 19, 2021, which I wish I'd known about. It's viewable here: http://youtu.be/swtD93kzWnk.   A video of my own setting of her poetry is posted by the New Music Online Library at http://library.newmusicusa.org/library/composition.aspx?CompositionID=71585, except unfortunately trying to listen to it, one gets the message: "Adobe Flash Player is no longer supported."  This must be very frustrating for all the composers whose works are there – not just mine; and one can only hope that progress will be made in rectifiying that situation before long!
Joel studied at Columbia, Juilliard, Fontainebleau, Cornell, and in Russia – all places I studied (or would have liked to!) – and has imbibed influences from sources as diverse as Mozart, Shakespeare, Indonesia and Japan.  Digesting the 66½ minutes of chamber orchestra music and two songs assembled here on TOCC 0621, recorded in Santa Barbara and Bratislava, Slovakia, requires an acquired taste, but merits repeated listenings.
And Emile Naumoff (b. in Sofia, 1962), whom Mademoiselle always referred to as "the little Emile," who at the age of 9 was already outperforming much older colleagues in going through the paces of training in keyboard harmony and counterpoint she put everyone through. TOCC 0603 generously provides 80½ minutes of his solo piano music, with mostly French and some Bulgarian, some German, and some American titles and inflections, including a 1996 waltz "pour Nadia," but not his teacher – his daughter, named after her.  The compositional joie de vivre and sophistication are as rewarding as the playing, which is not, alas, by the composer himself, but handled very capably nonetheless by Gregory Martin.
One last CD to be mentioned, the work of a composer who did not study with Boulanger, though she did spend some time in residence at Copland House, so one can assume the influence is there, even if only indirectly, is Women of Valor, an ambitious 3-movement oratorio by Andrea Clearfield (b. 1960), rendered, one can only say valorously, by mezzo Rinat Shaham, soprano Hila Plitmann, and narrator Tovah Feldshuh, with the Los Angeles Jewish Symphony conducted by its founder and artistic director Noreen Green on the Albany label.  The three movements each depict several Biblical women:  Sarah, Leah, Rachel, and Jocheved (Moses' mother) in Movement I; Miriam, Hannah (mother of Samuel) and Jael (a predecessor of Judith) in Movement II; Michal (Saul's daughter, David's first wife), Ruth, Esther, and the Woman of Valor from Proverbs in Movement III.  All are valiantly depicted with inventive melodies, harmonies, and rhythms, especially Miriam's dance, which served as a rousing finale to a recent online concert the LAJS recently gave, featuring excerpts from this inspired and inspiring work.  I first heard of Clearfield when researching the 2014-15 course I was teaching in Manhattan on Jewish Opera, and again in working with one of her collaborators, Ellen Frankel, on my 2016 opera, The Triangle Fire. I hope I may have inspired her to look at the story of Zelophehad's Daughters (see http://youtu.be/RDOguBw65Ms) and look forward to hearing and enjoying more of her work!
© Copyright 2021 Leonard Lehrman
This is Leonard Lehrman's 29th article for SoundWordSight.com.
His most recent concerts, presented on Zoom, with Helene Williams & Daniel Hyman, co-hosted by the Henry Waldinger Memorial Library and Court Street Music in Valley Stream, NY, in memory of Nat & Emily Lehrman, may be accessed at:
http://tinyurl.com/1Juno2021 – Students & Teachers
http://tinyurl.com/21Sep2021 – Romania, Romance & Humor
http://tinyurl.com/5Oct2021 – Russia +Italy
http://tinyurl.com/9Nov2021 – Autumn +Mandelbaum, Skovron
http://tinyurl.com/7Dec2021 – Winter +Sondheim Tribute
Future Zoom concerts are scheduled at 5pm Tuesdays on Jan. 11 (Schubert), Feb. 1 (Black History), Mar. 1 (Women's History), Apr. 5 (Jewish History), May 3 ("Maying"), June 14 (Students & Teachers), and Sept. 13.
His Overture & Adaptation of the operetta Damn! That Apple, posted at http://vimeo.com/593993226, received its fully staged premiere at Center for the Arts in Homer, NY and Solair Recreation Center in Woodstock, CT on Aug. 14, 15 & 19, 2021.
His completion of Marc Blitzstein's opera Sacco and Vanzetti received a 2-part "Retrospective Preview" on Zoom in Hofstra University's Italian American Experience Lecture Series Oct. 19 & 21, posted at http://www.youtube.com/playlist?list=PLmhHI8m9j-XsJKhQglT2U7iuGooq7CjiF.
---
Comments Off

on Ending the Year Francophilically by Leonard Lehrman
Sorry, comments are closed.