Comments Off

on AMERICASCAPES – A CD Review by Dana Paul Perna
November 10, 2021 by Admin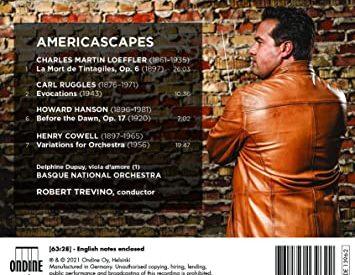 AMERICASCAPES
Charles Martin Loeffler: La mort de tintagiles, Op. 6
Carl Ruggles: Evocations (orchestral version)
Howard Hanson: Before the Dawn, Op. 17
Henry Cowell: Variations for Orchestra, HC 833
Robert Trevino, conducting
Basque National Orchestra
ONDINE  1396-2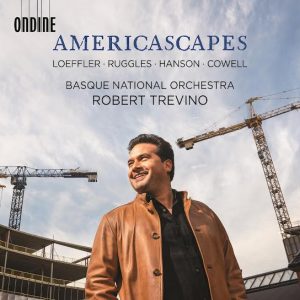 What an unexpected thrill in discovering that a new, thoughtfully conceived album has been devoted to music by four American composers you seldom encounter on orchestral programs anymore, if not ever. The new release of whence I write is by the Basque National Orchestra (Euskadiko Orkestra) under the baton of conductor Robert Trevino that appears on the ONDINE label, catalog number 1396-2. With the exception of one work, three of the titles have been recorded previously, yet each of them have been captured in truly glorious technicolor sonority, marking a most welcome inclusion to any record collection.
During their lifetimes, these four composers were performed, esteemed and acclaimed, yet, alas, have fallen into a degree of undeserved neglect since their passings. While it is uncommon enough to find these Masters sharing the same album, the conductor Robert Trevino has taken his exploration still further, into the recesses of their repertory – complete with a Hanson piece, Before the Dawn, op. 17, that has had to wait a century for this, its premiere recording.
Based on a play by Maeterlinck, La Mort de Tintagiles by the Alsatian-born Charles Martin Loeffler (1861–1935) opens this release. Completed during the summer of 1897, this impressive 25-minute orchestral work features a solo part for viola d'amore that is performed on this recording by Delphine Dupuy. La Mort de Tintagiles is a richly orchestrated treasure of an opus that Loeffler and Franz Kneisel premiered with the Boston Symphony Orchestra in January 1898 – as originally scored for TWO viola d'amores and orchestra. Loeffler revised the work, prepared the featured parts for one viola d'amore, receiving its premiere in that final form in 1901; the version presented on this release. (For motion picture buffs, some of you may recognize the viola d'amore's presence amidst the score for "On Dangerous Ground" by Bernard Herrmann. One of Loeffler's own viola d'amores [he owned 2] was gifted to Isabella Stewart Gardner on 14 August 1903, and is currently on display at the library named for her in Boston, but, I informatively digress.) While he is often referred to as being an "American Impressionist," that would not completely define Loeffler's identity as a composer, nor to generate a picture as per the Late-Romantic richness, color, depth and dramatic nature that one shall comprehend upon encountering this major opus among his catalog. The sumptuousness of Loeffler's orchestration, alone, is worth stating as remaining paramount to this unique work among the symphonic repertory; viola d'amore, orchestral, or otherwise.
Despite having completed only a little more than an hour's worth of music over the course of his 95 years, Carl Ruggles (1876–1971) remains among the very greatest of America's "maverick" composers. His Evocations exists both as versions for solo piano and orchestra, respectively; the orchestral version of which appearing on this release. In four relatively brief movements, his treatment of the symphonic idiom being a bit more forward-looking than the other works on this release demonstrates the Basque National Orchestra's ability in performing a diversity of styles.
Howard Hanson (1896–1981) remains one of the major figures in American music. As well as being a composer and conductor of distinction, under Hanson's leadership, he established the Eastman School of Music to world-renowned status. Prior to winning the Prix de Rome in 1921, Hanson had already written 20 compositions, including an orchestral work, Before the Dawn, Op. 17, that receives its premiere recording via this release. It remains a mystery as to why Hanson hid this orchestral work in his archives, although it is highly likely that, due to his schedule of multi-faceted activities, he may simply have forgotten about it, or, he may have dismissed it due to his consideration of it as having been a product of juvenilia. Imbued with a lavish orchestral palette, these Basque forces render Hanson's richly melodic hidden gem with the proper panache it truly deserves.
The album concludes with Variations for Orchestra by Henry Cowell (1897–1965), of whom Jerome Moross stated to me that "America will never fully pay the debt it owes to Cowell for his contribution to its culture." Is this a step in the right direction – by way of sunny Spain, no less? I certainly hope so, but, let me think for a moment. When the last time I encountered an orchestral composition of Cowell's on a major US orchestra's subscription program?……..…thinking…..…… still thinking……….thinking……..NOPE, not coming to me – let alone this nearly 20 minute winner from 1956. Who else but Cowell would scribe a  tone-cluster – his "gift" to Music – right near the end to form the final cadence towards its resolution! A Master's stroke, indeed. Being one of the more exceptional titles to have flowed from Henry's brilliance, and vast output, it is a pleasure to note that it has finally received the representation it justifiably deserves in superior audio quality, coupled with a first-rate performance.
With the exception of Hanson's opus that will be new to any orchestra, period, I will bet that all of this music proved a "first" for this orchestra that is set to celebrate its 40th Anniversary in 2022, and probably marked their first presentations in Spain overall. Robert Trevino, who serves as their current music director, has made a compelling addition to the discography of these composers in, as previously mentioned, superb and vivid sonics, expertly played by the fine Basque National Orchestra. For those interested in this repertory, and it has been refreshing to encounter these pieces anew, this release is definitely the one for you.
Dana Paul Perna
---
Comments Off

on AMERICASCAPES – A CD Review by Dana Paul Perna
Sorry, comments are closed.