Comments Off

on A Busy January – Concert and CD Reviews and Notes from Mark Greenfest
January 25, 2014 by Admin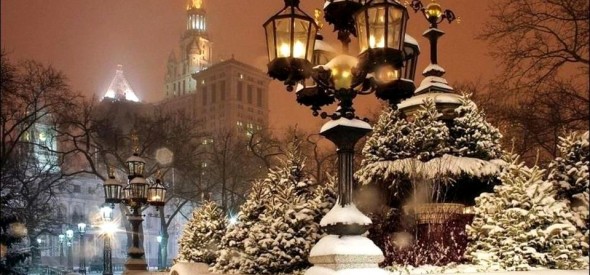 By independent New York concert reviewer Mark Greenfest
Spectrum Symphony of New York presented a winter concert on Wednesday, January 15, 2014 at 7:30pm at the Church of St. Joseph, Sixth Avenue (Av. of the Americas) near Waverly Place (West 4th Street Subway Station) in New York, NY, conducted by David A. Grunberg, with Artur Kaganovskiy, violin soloist. The Church has some of the loveliest acoustics in New York.
The program consisted of G. F. Handel (1685-1759), Overture to Scipione (1726); Bruce Saylor (1946-), Cantilena for String Orchestra (1965); W. A. Mozart (1756-91), Violin Concerto No. 3 in G (K. 216, 1775), with soloist; and, after intermission, Mozart, Symphony No. 41, the "Jupiter" (K. 551, 1788), his last great symphony.
The orchestra is committed to performing works of living composers, such as Prof. Saylor, who wrote this wonderful overture at 19. I was most impressed by the first-class performances by the the orchestra, which had two rehearsals. The Handel overture, a rarely-performed,  unfamiliar work, was rousing and well-conducted (and uniquely re-orchestrated by Grunberg to show off Gerry Reuter on oboe and Susan Heerema on solo violin). Bruce Saylor's Cantilena is a masterful piece, with gorgeous sound from the Spectrum string section, slowly building a songful arch and gracefully flowing forward with crisp yet poignant poetry, in a song without words that is an operatic piece. The Mozart Violin Concerto, which Artur Kaganovskiy (seen above) performed on a brilliant modern violin, got a most exciting, yet properly measured, performance. Grunberg (conducting from memory) and the Spectrum Symphony nailed Mozart's great "Jupiter" Symphony – with all of its mercurial changes, subtle coloration, and lyrical songfulness. The orchestra played with precision and enthusiastic fervor. Its performance was positively joyous! Both Mr. Grunberg and Mr. Kaganovskiy should have major careers, and this orchestra should make its way on to the musical map.
Visit Spectrum Symphony of New York at http://spectrumsymphony.org/.
The Center for Contemporary Opera (CCO) (http://www.centerforcontemporaryopera.org/), now in its 31st season, presented El Cimarron by Hans Werner Henze, January 16 and 17, 2014 at Manhattan's Nimoy Thalia Theater at Symphony Space.  This opera, for one singer, portrayed the dramatic story of one protagonist, a runaway black slave in Cuba, portrayed by the stunning baritone Eric McKeever (of New York) is a one-man tour de force.  Henze composed the music; words by Miguel Barnet from the Autobiography of a Runaway Slave by Estaban Montejo, el Cimmaron, who died in 1973 at 113; adapted by Hans Magnus Enzenberger, and translated from the original Spanish into English.
London-educated, Greek director Eugenia Arsenis did an excellent job staging the production; Sara Jobim conducted with most natural gestures and precise baton.  Only three musicians performed the piece – percussionist Barry Centanni (St. Luke's, Montclair State chair), guitarist Oren Fader (MSM faculty, Cygnus, Met Chamber Ensemble), and flutist Nathalie Joachim (Flutronix  pop duo, Julliard faculty). All are musician's musicians with immaculate timing and great sound who were highly responsive to the conductor, with fantastically tight ensemble. Julia Noulin-Merat and Liz Sherrier did the austere but not stark stage design, which was very effective. Carl Wiemann did the lighting design, which was quite clear and augmented the production.  Henze, the composer, is a conflicted figure – he was a German communist, who had been in the jugend, who lived in a schloss (castle) in Italy (and he used the dungeon for his desires). The music consisted of clear speech-singing for the baritone, and an orchestration that allowed the delivery of text to be transparent at all times, even when it got excitable. One can admire this orchestration and the piece is triumphant theater.  Eric McKeever's performance, moreover, was nothing less than amazing…..
I was torn away from the opening night of the Julliard Focus! Festival Schnittke 2014 orchestral concert, Friday night, January 24, to attend the Composers Concordance Founding Directors Concert at Turtle Bay Music School at E. 52nd near 2nd Ave. at 7 pm for a free program of works by Joseph Pehrson and Patrick Hardish, the founding directors of the organization, with additional pieces by current directors Gene Pritsker, Dan Cooper, and Milicia Paranosic, writing arrangements or tribute pieces to honor them and their advisor, Prof. Otto Luening.  They are not lightweights, although many of the pieces are lighthearted, using variety and contrast with varied musical material.  Accordionist William Schimmel, perhaps the world's best, flutist Margaret Lancaster, one of the best in the world, Peter Jarvis, drummer-percussionist, guitarist Gene Pritsker, pianist Judith Olson, dancer Linda Past Pehrson, and electronics wizard Milicia Paranosic all have national and international reputations for excellence.  Pieces included Patrick Hardish's Solo for Pete, Accordioclusterville, Virginia Fantasy, Hardish Mix (with Bill Schimmel) and Invention, along with Joseph Pehrson's Transpian, Fuse, Panoply, and Interplay; and, Dan Cooper's Blues for Otto, a tribute to Otto Luening that Margaret Lancaster performed on a bass flute instead of a regular one; as well as tribute pieces by Milicia Paranosic and Gene Pritsker.  There was a very amiable, gratis wine and cheese reception afterwards.
The influence of Joe and Pat within the new music community over the years has been remarkable.  Neither are in the best of health these days, and the recognition of their influence and the joy of sharing their music is well deserved.  Kudos to Joseph Pehrson and Patrick Hardish and to the ongoing Composers Concordance organization (http://www.composersconcordance.com/), which has many concert programs (some complementary) scheduled for this season!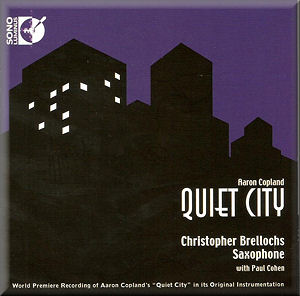 Aaron Copland's Quiet City is the signature piece in the Sono Luminus CD, (DSL-92135), 2011, total time 58:38, by Christopher Brellochs, Saxophone, with Paul Cohen. It has the World Premiere recording of Copland's (1900-90) Quiet City (April, 1939), adapted by Christopher Brellochs for the original instrumentation of trumpet, clarinet, alto saxophone and piano (Donald Batchelder, Michael Kriegler, Brellochs, and Alison Brewster Franzetti, respectively), written for an Irwin Shaw play that never opened – some of the musical themes made it into Copland's Pulitzer Prize awarded score for Our Town. This piece, all 13:39, is a major score that is extremely pleasurable. Joining it on the CD are Leo Ornstein (1893-2002), Ballade (1955), 3:59, with the great Paul Cohen, alto saxophone, Ornstein being the longest-lived American composer, working at 98; Robert Aldridge (1954), Sound Moves Blues (1999), 10:30, Aldridge being the composer of the opera Elmer Gantry, (Kriegler, clarinet, Brellochs, saxophone, and Franzetti, piano); Walter S. Hartley (1927-), Lyric Suite (1993), 8:42 (Paul Cohen, tenor saxophone, Richard A. Clarke, viola, Lois Anderson, piano); Lawson Linde (1935-), Sonata for Soprano Saxophone and Piano, Op. 37, (1970), 8:47,(Cohen, soprano saxophone, and Franzetti, piano); and, as its anchor, Seymour Barab, (1921-), Suite for Trumpet, Alto Saxophone and Piano (1996), 13:01, (Batchelder, trumpet, Brellochs, alto saxophone, and Franzetti, piano). Barab, who founded the baroque revival with the New York Pro Musica, and played the cello with the contemporary Composers Quartet, was born in Chicago and lives in New York. His children's opera, Little Red Riding Hood, had about 900 performances world-wide its opening season, a record that presumably will remain unbroken (not even Menotti did as well). Barab is a wonderful, talented composer who is not as well-known or appreciated as he ought to be. All in all, this CD is a necessity for a library collection, and a good one to have in one's personal collection….
The CD is available at http://www.amazon.com/Copland-Quiet-City-Christopher-Brellochs/dp/B004YP3U4K.
Pianist Julian Lawrence Gargiuolo recently released two CDs, The Romantic Piano and No Smoking (2011), engineered by Joe Patrych.  Julian, who completed his masters degree at Peabody and doctorate at the University of Maryland in 2001, had studied with Italian master pianist Aldo Ciccolini and with other renowned pianists, is highly charismatic performing in person – akin to Victor Borge, with excellent technique and finger dexterity and a sterling integrity to perform beautifully what a lesser artist with his comedic talents would schmaltz up. This music – selections of Beethoven, Schumann, Chopin, Rachmaninoff, Scriabin and Debussy for 51 minutes on The Romantic Piano, and of De Falla, Schumann, himself, Piazzolla, Chopin, and Rachmaninoff on No Smoking – is technically right, gorgeous selections and most enjoyably well-played. His own talents fit right into the selections with the masters!
Find his recordings at http://www.juliangargiulo.com/recordings.html.
Category Sound | Tags:
---
Comments Off

on A Busy January – Concert and CD Reviews and Notes from Mark Greenfest
Sorry, comments are closed.