Comments Off

on Toronto Symphony Orchestra Performs in Daytona Beach, Florida – A Review by Dana Paul Perna
January 17, 2016 by Admin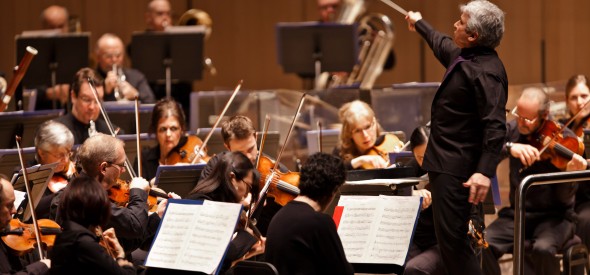 In 2003, it was lamented that the Toronto Symphony Orchestra was on the verge of coming to an end. Beginning in 2004, renowned violinist, Peter Oundjian assumed the helm as their Music Director. Many were skeptical that his selection would work, feeling that the ship would sink no matter who stood before them. Maestro Oundjian is still standing before them as their music director; the ship still afloat. How fortunate for Canada – and the World, for that matter that that is the case. It is clear that this is an ensemble of the very first level of excellence.
The Toronto Symphony Orchestra blew into town when they performed at the Peabody Auditorium in Daytona Beach, FL on the evening of January 8th. While their performance consisted of two standard works, the opening title was written by a Canadian composer; rare that one hears a Canadian work, let alone an orchestral one performed live. Now titled Wondrous Light, this seven minute concert opener by John Estacio seemed tailor ordered for such a purpose. The second movement of his multi-movement work, Borealis, which as performed here, can be performed apart from the longer opus, Estacio sonically depicted his trippy video-game's array of Mother Nature's cinematographic impressions of the Aurora Borealis through a combination of superb craftsmanship and scintillating orchestration. It is doubtful that one may ever encounter a better performance than the one the Torontonians gave it.
After some changes on stage, the concert continued with a stunning performance of Piano Concerto No. 4 in G Major op. 5 by Ludwig van Beethoven. The soloist on this occasion was the 20 year old pianist, Jan Lisiecki. While Canada has contributed its share of stellar pianists to the concert world, Glenn Gould among them, Mr. Lisiecki will very shortly be included in that company, if not belonging there already. The orchestral accompaniment may have been some of the best performed Beethoven I have ever heard coming from an orchestra, meaning as in any orchestra. Mr. Lisiecki's solo graced Beethoven's masterpiece with shading and nuance, expressing eloquence and polish far beyond his years. This rewarding collaboration between Maestro Oundnian, the orchestra and him made for a most illuminating performance of a concerto Beethoven himself premiered as soloist prior to becoming totally deaf.
Following intermission, the concert resumed with one of the warhorses of the literature, namely Scheherazade, op. 35 by Nikolai Rimsky-Korsakov. Just the very mention of this particular opus is enough to inform someone as to what they are about to encounter. Intended as their showcase, this really showed the Toronto players off to their maximum. Maestro Oundnian allowed player's solos the time they needed to represent themselves, and the program Rimsky-Korsakov's music depicts. Overall, the performance was rendered in such lavish fashion, relishing and revealing its sonic palette to its required level of splendor. Well received as this was by the audience, it gave the concertmaster (yes, you are reading that correctly, the Concertmaster) Jonathan Crow, a standing ovation (!!!!) upon the completion of the performance, he being instructed to take his bow first before his colleagues joined him in theirs.
In mentioning that the enthusiastic response from the Daytona Beach audience was enough to illicit an encore, Maestro Oundnian proceeded to lead the Toronto Symphony in the Polonaise from the opera Eugene Onegin by Pyotr Ilyich Tchaikovsky, bringing the concert to a joyfully buoyant conclusion.
Category Sound | Tags:
---
Comments Off

on Toronto Symphony Orchestra Performs in Daytona Beach, Florida – A Review by Dana Paul Perna
Sorry, comments are closed.