Comments Off

on Catching Up with Cipullo, NYFOS, RAM, YIVO & York by Leonard Lehrman
March 24, 2019 by Admin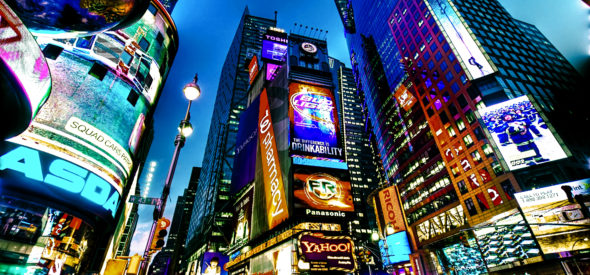 Catching Up with Cipullo, NYFOS, RAM, YIVO & York
by Leonard Lehrman, for SoundWordSight.com
March 2019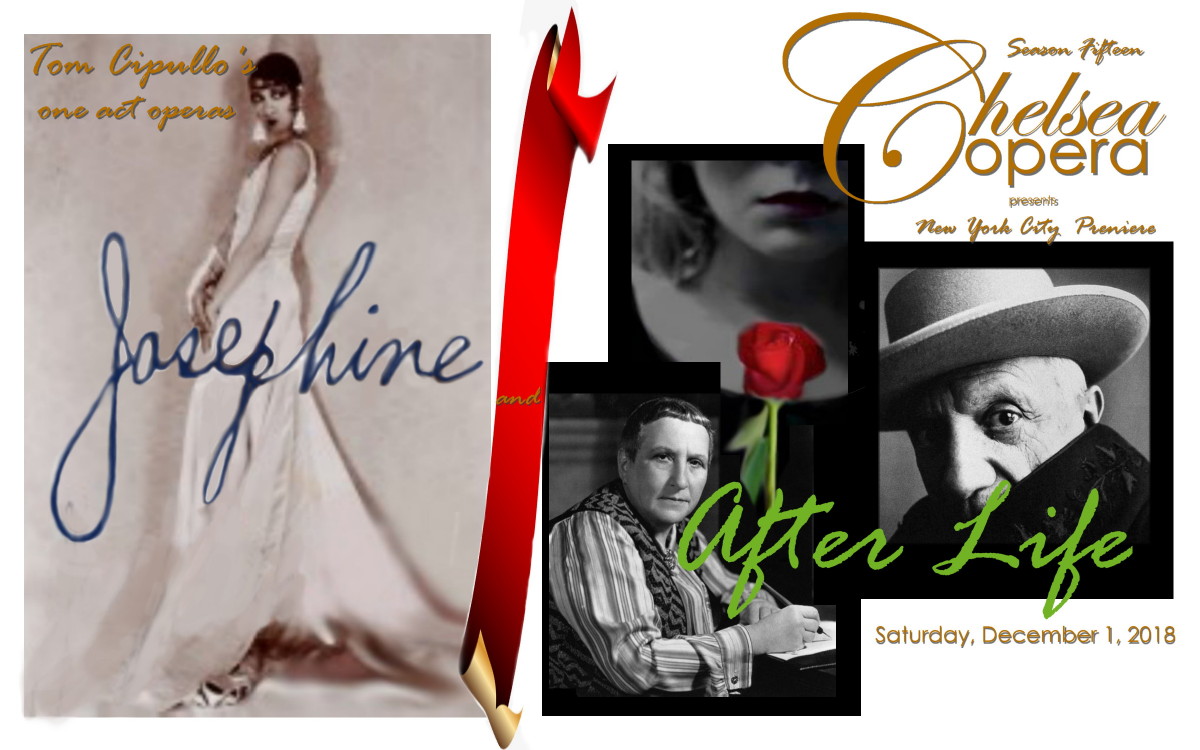 On December 1, 2018, at Christ & St. Stephen's Church in Manhattan, Chelsea Opera presented their second and third operas by Tom Cipullo, in their New York premieres, the first having been Glory Denied, which has since had performances nationwide and recently enjoyed its European premiere, in Berlin. The new operas, Josephine and After Life, have also been making the rounds as a double-bill, most recently, this month, in Colorado. Both are chamber pieces, commissioned in 2016 and 2015, performable by one and three singers, respectively, and a quintet of instruments (flute, clarinet, violin, viola, and piano), conducted here by Benjamin Grow and directed by Dean Anthony.
David Mason wrote the libretto for After Life, creating an imaginary dialog between Gertrude Stein (1874-1946) (Jennifer Beattie) and Pablo Picasso (1881-1973) (Steven Eddy), though their most famous exchange is missing: When Stein complained that she did not look like the portrait he had painted of her, he replied: "You will." The last 15 minutes of the work are dominated by a third character, a Holocaust victim called merely "Young Girl" (Sara Paar), who contributes a different perspective, so to speak, on these defensive artists' work in Vichy France. One could hardly avoid thoughts of parallels, working in the United States today.
Josephine's libretto, by the composer, built around an imaginary interview with chanteuse/danseuse Josephine Baker (1906-1975), was written for the proudly biracial soprano Melissa Wimbish, who created the role in Washington D.C., presented by Urban Arias. (This performance was a "deuxième.") The program notes included three paragraphs by the performer, describing her feelings of both pain and honor, creating the role. No semi-nude banana dancing here (the venue was, after all, a church), but quite a bit of figurative soul-baring.
The "Composer's Note" was not printed in the program and seems unfortunately to have been taken down from the ChelseaOpera.org website, but it would certainly seem to merit reading, for Tom Cipullo is a wonderfully sensitive, socially-conscious word-setter, a former student of Elie Siegmeister, and co-founder of the Friends & Enemies of New Music. His inclusion of a racist slur uttered by the Jewish comedienne Fanny Brice touched on one of today's hot-button issues, the desperate need for a Black-Jewish alliance against white supremacists. Cf. Siegmeister's 1967 synagogue-commissioned cantata, based on Dr. King's 1963 March on Washington Speech, I Have A Dream (see https://youtu.be/dpRgYehJFhU and https://www.youtube.com/playlist?list=PLmhHI8m9j-XtRoZ4exJykPMStAfIM2X30, and, from the other side, Spike Lee's brilliant new film BlacKkKlansman.
Social consciousness was also present in New York Festival of Song's Jan. 17, 2019 "World of Kurt Weill" program at Juilliard, aced by a septet of young singers (sopranos Anneliese Klenetsky and Jaylyn Simmons; mezzo Shakèd Bar; tenor Chance Jonas-O'Toole; baritones Gregory Feldmann and Jack Kay; and bass-baritone William Socolof), curated and accompanied by the rather incredibly indefatigable Steven Blier, concentrating on songs by writers and composers from Weimar, Germany, including Kurt Tucholsky, Hanns Eisler, Friedrich Hollaender, and of course Kurt Weill. If much of it sounded familiar, it was, as Blier had presented this program before–in 1998 and 2004, sung by the likes of Peter Kazaras and Constance Hauman–and much of it came from the repertoire of a former Blier accompanee, the great singer/actress Martha Schlamme (1923-1985). (See http://ljlehrman.artists-in-residence.com/articles/aufbau8.html.) Highlights included "Caesar's Death" from the Georg Kaiser-Kurt Weill Silverlake, again hard not to see echoed in our present political situation; Weill's post-war setting of Brecht's "Nannas Lied"; and the Tucholsky-Eisler anti-war song, "Graben" (which means both "trenches" and "graves"). A section in the last of these is quoted in Eisler's earlier setting of "Nannas Lied," part of Roundheads & Pointedheads (see https://youtu.be/LC6BbYBWUGw.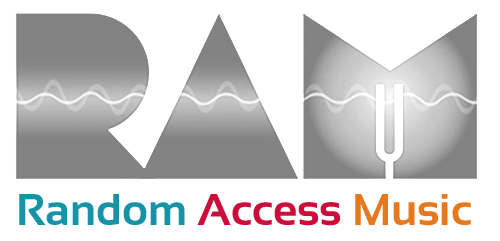 Composer Ned Rorem's 95th birthday Oct. 23, 2018 was celebrated in a number of venues, not least Random Access Music, at the tiny little hall called "Sage Music" in Long Island City, Queens, Nov. 1, 2018. Soprano Risa Renae Harman made a point of inviting me to her diligent, evocative performance there of Rorem's Ariel cycle on Sylvia Plath's poems, with clarinetist Thomas Piercy and pianist Karén Hakobyan, who opened the program with Bernstein's Clarinet Sonata. But it was the other music on the program, by David Fetherolf, Missy Mazzoli, Kamala Sankaram and Conrad Tao, or rather its performance, that left the greatest impression, thanks to the remarkably singing tone of participating cellist Kate Dillingham. When I
spoke with her afterwards, she gave me her most recent CD of Dvorak's Cello Concerto together with two rarely performed but lovely short pieces of his (Silent Woods, op. 68 no. 5; and Rondo in G, op. 94) with the Brno Philharmonic, conducted by Anthony Armore. More information about the CD may be found here:
https://www.amazon.com/Dvo%C5%99%C3%A1k-Cello-Concerto-Minor-Other/dp/B07DPV1GRW
I'm happy to report that on it every note is cherished, making the Concerto less racy, as in rat-racy, than I've usually heard it, but full-bodied and quite enjoyable. She's performed and recorded quite a lot of more recent music, some of which I've also listened to, but here's a rare instance where I found myself appreciating the playing much more than what was being played. Keeping open ears for the future, of course.

A lovely program entitled "Sweet Is Thy Voice," curated by Alex Weiser Dec. 6, 2018 at YIVO Institute for Jewish Research, featured 16 works inspired by the Biblical Song of Songs, in German, Russian, Yiddish, Hebrew, Latin and English, reaching back to Bach and Monteverdi, through Yiddish Theatre, Lazare Saminsky (1882-1959), and forward to David Lang and two premieres by Na'ama Zisser (b. 1988) and Loren Loiacono (b. 1989). One could of course do a least a week's, not just one evening's, worth of similarly inspired music – notably Jack Gottlieb's "operatorio" Set Me As A Seal and the Love Duet from Act I Scene 2 of my opera Hannah (see https://youtu.be/co4G2YnhVqc). The entire YIVO program, performed by a capable quartet of singers (Lucy Fitz Gibbon, Marie Marquis and Kristin Gornstein, and Jonathan Woody), a piano quartet and percussion, is posted at https://www.youtube.com/playlist?list=PLtPOkhh8R4wxmMwkmYe1ncqgd8HQmmQq1. Unfortunately, as in the printed program itself, which generously included the complete texts, the names of the individual performers are not listed for each individual setting, so it's hard to tell which of the three women sing what. But since the video is online, that can, one hopes, be remedied!
Last but not least, the York Theatre's Winter 2019 Musicals in Mufti series featured three musicals on texts by Alan Jay Lerner (1918-86). Alas we were in Europe during the middle one, The Day Before Spring, but managed to catch the opening and closing pieces January 26 and February 24.
Carmelina, which had a short run Broadway run in 1979, and two Mufti presentations in 1996 and 2006, was the last score by Burton Lane (1912-97), and according to Joseph Stein (1912-2010), who worked on it with Lerner & Lane, the composer's personal favorite, surpassing even his 1947 Finian's Rainbow, one of the greatest (and most socially-conscious) of all American musicals. Two of Lane's best songs ever grace this show: the male trio "One More Walk Around the Garden" and "I'm A Woman," the eleven o'clock number for the title character, originally sung by Georgia Brown (1935-92). The new York version has additional lyrics by Barry Harman, including two new numbers for Carmelina, sung by a vulnerable but determined Andrea Burns, but the original "I'm A Woman" has been transformed into "You're A Woman" and given to other characters, presumably to flesh them out. Was the gain worth the loss? Hard to say, especially as one can't help noticing the plot's similarity to the wildly successful Mamma Mia, even though based on the much earlier film, Buona Sera, Mrs. Campbell. I do wish I'd heard the original cast on stage, including bass-baritone Cesare Siepi, replaced on the original cast album by tenor Paul Sorvino. "Someone in April" remains memorable, and Harman re-knits the whole thing together with his lyrics for "It's Time for a Love Song," opening and closing Act I as well as in a reprise at the Finale.
Less tuneful, but still quite interesting and more provocative was the 1971 show Lolita, My Love, that opened and closed in Boston, based on the Vladimir Nabokov novel, with music by English film composer John Barry, here reconstructed by Erik Haagensen and Deniz Cornell, and directed by Emily Maltby (daughter of Broadway lyricist and play-doctor Richard). Robert Sella as the bumblingly libidinous Humbert Humbert and Caitlin Cohn as the nymphet in the title role led a cast of 13 in what was reframed as a flashback in the office of the protagonist's (black female(!)) psychiatrist, who refused at the end to grant any solace to the confessed pedophile murderer despite his efforts, with a monetary gift, to give his victim a new life with her husband and their expectant child. My comment in the elevator afterwards that this seemed to be a musical about Woody Allen evoked sad sighs of agreement. Lerner's nimble lyrics reflected the perambulations of a man trying vainly to figure women out, reminiscent of the much chaster Gigi, but countered by the director's successfully managing to project the young girl's perspective as well. The work definitely deserves to be developed further and seen more widely.
Also deserving of further development is the new musical, Monet, given a reading at the York March 1, 2019 The book by Joan Ross Sorkin centers on the short life of painter Claude's first wife Camille and the (somewhat fictionalized) influence she had on his career. Carmel Owen wrote both lyrics and music, with the cast of 10 directed by Alan Paul, conducted from the piano by Eugene Gwozdz (last seen leading the US premiere at Yale of the tuneful Flemish Sacco and Vanzetti, in an unfortunately poor English translation). Since this was a reading, not subject to review, I'll just say I'm glad we went, recalling how Playwrights' Horizons workshopped Sondheim's Sunday in the Park with George, based on the life of painter Georges Seurtat, before it conquered Broadway. Vincent Van Gogh has been the subject of at least two moving operas, by Christopher Yavelow and Bernard Rands. Now how about Gustave Courbet?
LEONARD LEHRMAN is the composer of 235 works to date and former Editor of The Dunster Drama Review, Risley Review and Opera Today, Associate Editor of Opera Monthly, and contributor to American Music, andante.com, Aufbau, The Forward, The Harvard Crimson, The Jewish Advocate, Jewish Affairs, Jewish Currents, Jewish Week, Massachusetts Review, New Music Box, New Music Connoisseur, Opera Journal, Outlook, and the Sonneck Society Newsletter. This is his 19th article for SoundWordSight.com.
Category Sight, Sound, Word | Tags:
---
Comments Off

on Catching Up with Cipullo, NYFOS, RAM, YIVO & York by Leonard Lehrman
Sorry, comments are closed.