Comments Off

on Peri Mauer's Life on Earth for Chamber Orchestra Reviewed by Sandra Coffin
June 30, 2013 by Admin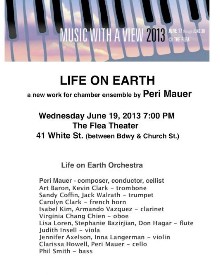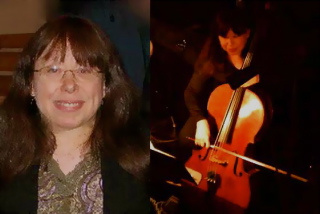 Life on Earth, for chamber orchestra
Peri Mauer – composer, conductor, cellist
Music With a View 2013
Flea Theater, NYC
June 19, 2013
Review by Sandra Coffin
I consider myself fortunate to have been a part of the performance of Peri Mauer's Life On Earth in Music With a View 2013, June 19th at The Flea Theater in Tribeca. The foundation of the piece is a series of structured solos and duets, interspersed with background free improvisations by individuals and groups of instrumentalists using melodic and rhythmic motifs found in the structured sections. The material is beautifully written, with expressive melodies and intricately woven rhythmic subtleties. The solo parts vary, depicting different moods and times of day. The overall effect is of major events taking place amidst a constant stream of small ordinary happenings, all based on the same short motifs.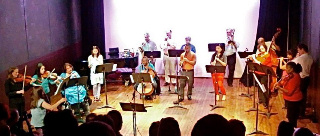 Ms. Mauer both played cello and conducted, shaping sections between the major events for a range of tone colors and dynamics. It was exciting to hear the lines and motifs pass from one player to another, and then to fit my own part into the overall texture, interacting with the other's ideas while maintaining a certain degree of independence. It was obvious that all the players were listening and reacting to each other; ideas were passed from one instrument to another, with accents and tempi shifting as each interpreted the material. Lighting effects – changing colors and intensities – added to the dramatic effect.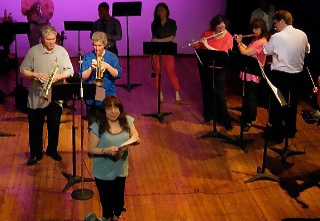 More about the Music with a View 2013 concert series at http://www.theflea.org/blog_detail.php?page_type=4&blog_id=230.
Visit composer Peri Mauer at http://www.reverbnation.com/perimauer.
Sandra Coffin, trumpet, has performed around the world as a soloist and chamber musician and orchestral player. Recent featured appearances include the Hummel Concerto in Eb with the Einstein Symphony, Stravinsky's L'Histoire du Soldat with Chamber 16 at Lincoln Center, and Copland's Quiet City on a Hurricane Sandy Relief benefit concert at St. Peter's Church in Manhattan. She has premiered numerous new pieces, including commissioned works by Susan Kander and Lori Laitman. Sandy has been the recipient of numerous awards and fellowships; she holds a BA in Latin and a BMus in Trumpet from Oberlin College and Conservatory, and an MM from the Manhattan School of Music.
---
Comments Off

on Peri Mauer's Life on Earth for Chamber Orchestra Reviewed by Sandra Coffin
Sorry, comments are closed.