Comments Off

on Two from J.G. Ballard – Concrete Island and High-Rise
March 4, 2012 by Admin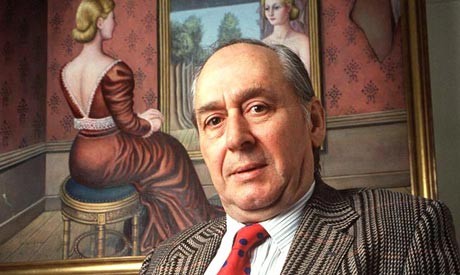 I recently read Concrete Island and High-Rise, both by the late British writer J.G. Ballard. That's him above.
Each was profoundly disturbing, with both stories centering on the potential costs of urban isolation and disconnection from the social order.
Concrete Island is about a car crash and a man trapped by it in a small valley, actually a central London traffic island, surrounded by several high speed highways, unnoticed by the thousands hurtling by daily. He is badly injured in his initial attempt to escape the island, and the story is about his physical and mental state the longer he is trapped there. Fascinating and insightful, Ballard had a gift for getting to the heart of human fear and amplifying it to an almost painful degree.
High-Rise concerns itself with what happens when social order goes haywire in a modern apartment tower. Following several individuals through the social breakdown and physical destruction of their collective home, the story is wonderfully nuanced and varied in its depictions of individual reaction to calamity. It also depicts class structure as an ongoing and everyday fact of English life, although in this story, the economic troubles the rich visit on the non-rich are translated into raiding parties who descend into the lower floors of the building to bring greater destruction to those not of their class.
Both stories are vivid and riveting and will haunt you for some time, especially with regard to asking yourself how you might act in such situations.
Highly recommended.
Category Word | Tags:
---
Comments Off

on Two from J.G. Ballard – Concrete Island and High-Rise
Sorry, comments are closed.